Videogame sales fall for 11th straight month in September
Oct. 22, 2022 11:03 AM ET
Microsoft Corporation (MSFT), SONY, EA, NTDOY
NTES, LOGI, GME, TTWO, WBD, SGAMY, SQNXF, NCBDF, CCOEF, UBSFF, ATVI, UBSFY, TCTZF, TCEHY, GAMR, HEAR, KNAMF, NTDOF, SGAMF, CRSR, CCOEY, NCBDY, KNMCY, SE, SQNNY, ESPO, NERD, SKLZ, RBLX, KONMY
By:

Jason Aycock,

SA News Editor
2 Comments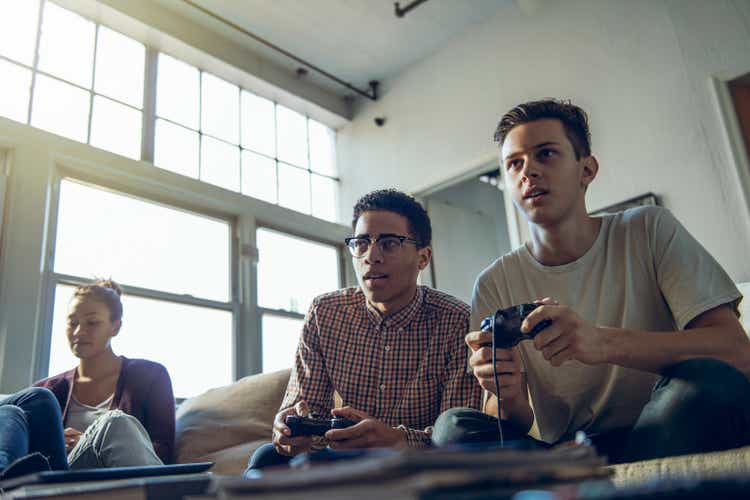 Videogame sales fell year-over-year for the 11th straight month in September - still suffering from tough comparisons to a strong 2021 - but once again, the trajectory continued to improve as the all-important holiday shopping season neared.
Overall, sales slipped 4% from the previous September, to $4.073B, according to NPD Group. That once again was driven by the biggest category, game content sales, where the figure fell 7% to $3.408B.
But that was mitigated by the ongoing rebound in hardware, helped by new console availability - hardware sales rose 19% year-over-year, to $490M - and accessory sales that were flat at $174M.
In August, overall sales had fallen year-over-year by 5%; in July, 9%; and in June, 11%.
The figures mean that with nine 2022 months in the books, year-to-date overall videogame sales are 8% off their 2021 pace, at $38.4B - with content down 9%, hardware down 1%, and accessories down 13%.
Improved PlayStation 5 (NYSE:SONY) availability gave a boost to hardware, analyst Mat Piscatella notes. The PS5 was best in unit terms and dollar terms for September; Nintendo's Switch (OTCPK:NTDOY) was second-best in unit sales, while Xbox Series (NASDAQ:MSFT) was second-best in dollar terms.
And it was the first month where accessory sales didn't decline since October 2021, helped by an increase in spending on gamepads; the best-selling accessory in September in unit and dollar terms was the Xbox Wireless Controller Carbon Black (MSFT).
Turning to the games: It was a month for new releases, with six new games appearing among the top eight sellers. Those were led by new No. 1 FIFA 23, the latest - and last - FIFA-branded soccer title from Electronic Arts (NASDAQ:EA). It displaced a fellow EA title: last month's leader, Madden NFL 23 (EA).
And keeping up the sports-game release schedule was No. 3, NBA 2K23 (TTWO), just ahead of three other new releases: Splatoon 3 (OTCPK:NTDOY); The Last of Us: Part I (SONY); and Teenage Mutant Ninja Turtles: The Cowabunga Collection (OTCPK:KNMCY).
Rounding out the dollar-sales top 10: No. 7, Saints Row (Plaion); No. 8, JoJo's Bizarre Adventure: All-Star Battle (OTCPK:NCBDY); No. 9, Elden Ring (OTCPK:NCBDY); and No. 10, Mario Kart 8 (OTCPK:NTDOY).
Mobile game spending continues a downdraft, falling 5% year-over-year, and making up a smaller share of mobile app spending (games down to 54% of total spend vs. 60% a year ago, according to Sensor Tower). New game installations are seeing a sharp decline even considering seasonality, down 3% year-over-year and at their lowest point since before February 2019.
Related tickers: OTCPK:NTDOY, SONY, MSFT, HEAR, LOGI, CRSR, EA, ATVI, TTWO, WBD, OTCPK:UBSFY, OTCPK:NCBDY, OTCPK:SQNNY, OTCPK:CCOEY, OTCPK:SGAMY, OTCPK:KNMCY, SKLZ, SE, NTES, OTCPK:TCEHY, RBLX. Retail stock: GME.