AZEK stock slides after Q4 earnings miss, soft revenue guidance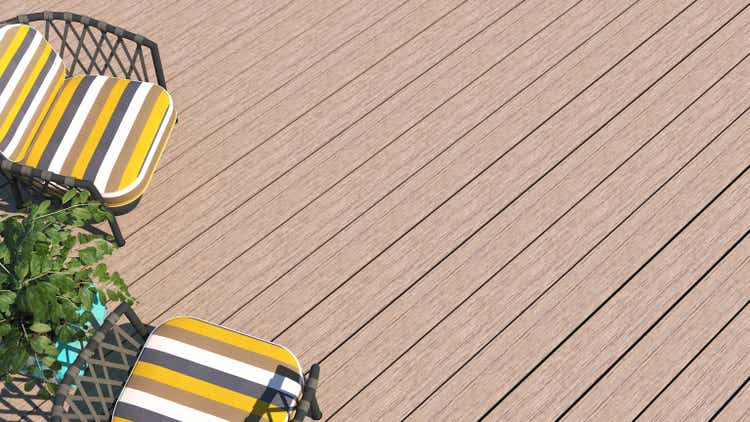 AZEK (NYSE:AZEK) stock tumbled 7.8% in Monday after-hours trading after the maker of decking and building products issued Q1 FY2023 revenue guidance that fell short of the average Wall Street estimate and fiscal Q4 earnings trailed the consensus estimate.
The company said it expects Q1 revenue of $200M-$215M, less than the $236.0M consensus. It also expects adjusted EBITDA of $8M-$12M, including the change in process for estimating the value of its inventory and lower production levels to facilitate its channel inventory recalibration. By comparison Q4 2022 adjusted EBITDA was $65.1M.
For the full-year fiscal 2023, AZEK (AZEK) expects adjusted EBITDA of $250M-$265M, less than the Visible Alpha consensus of $298M, and capital expenditures of $70M-$80M. The change in the way it estimates the value of its inventory is expected to negatively affect its cost of sales by $8M, with the majority impacting Q1.
"In our fiscal fourth quarter, we experienced steady end-market demand while reducing inventory in the channel consistent with our expectations," said CEO Jesse Singh. "We expect to complete the previously highlighted channel inventory recalibration by the end of the fiscal first quarter 2023."
The update of its process for estimating the value of its inventory resulted in a $13.3M charge in Q4.
Fiscal Q4 adjusted EPS of $0.16, trailing the $0.18 consensus, declined from $0.32 in the year-ago quarter.
Q4 net sales of $304.1M, topping the $288.9M consensus, declined 12% from $346.1M in the year-ago period.
Adjusted EBITDA of $65.1M dropped from $81.5M in Q4 2021.
Conference call at 5:00 PM ET.
Earlier, AZEK Company (AZEK) non-GAAP EPS of $0.16 misses by $0.02, revenue of $304.63M beats by $15.72M