Highly vulnerable shipping stocks sink as China fears mount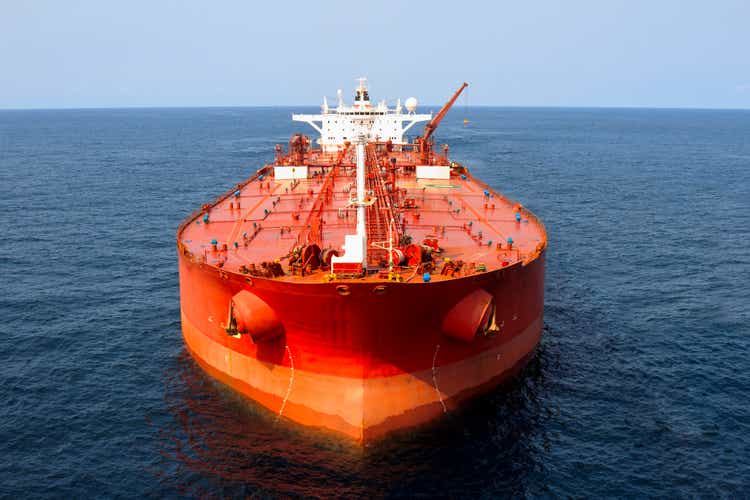 Ocean shipping stocks could rebound Tuesday after extending their recent declines Monday, as Jefferies analysts raise EPS estimates and stock price targets as the group's earnings power has "strengthened materially."
The tanker market approaches winter with tight supply and substantial potential for fleet dislocation as the European Union's ban on imports of Russian crude oil takes effect next week, Jefferies said.
The EU ban on Russian crude imports starts December 5 and Russian petroleum products February 5, which will require replacement imports to travel much longer distances.
But on Monday, shares of crude tanker owners Nordic American Tankers (NYSE:NAT) and Euronav (NYSE:EURN) fell 4% and 6% respectively, prices of crude- and product-tanker stocks International Seaways (INSW) and Frontline (FRO) also slid by a respective 4% and 6%, and product tanker owners Scorpio Tankers (STNG) and Ardmore Shippings (ASC) both fell 4% on the day.
However, many tanker shares are still up triple digits YTD and were perched at or near 52-week highs a week ago.
Analysts have been hoping the reopening of China's economy following COVID lockdowns would provide a positive catalyst for shipping stocks, but instead infections have spiked in China - with 40K cases reported Sunday - and Chinese citizens are protesting in the streets to protest lockdowns.
"Crude tanker equities generally fall along with oil prices," and as crude oil fell nearly 5% last week, rates for very large crude carries sank 16% from the prior week, Clarksons Securities analyst Frode Morkedal said.
Container spot freight rates also continue to fall, with the Drewry global composite index dropping another 7% last week to $2,404 per 40-foot equivalent unit, down 77% from the September 2021 peak.
"Every quarter from here is likely to decline for all liner companies until sometime into the undefined future," Stifel analyst Ben Nolan said.
Zim Integrated Shipping (NYSE:ZIM), easily the worst performer among larger shipping names this year, sank 7% Monday to hit a new 52-week low.
"Dividend hopes are fading" at Zim (ZIM), and analysts are now forecasting minimal earnings over the next few years.