Hardware gains drive November videogame sales to first growth in a year
Dec. 10, 2022 10:31 AM ET
Sony Group Corporation (SONY), MSFT, ATVI, NTDOY
NTES, LOGI, EA, GME, TTWO, WBD, SGAMY, SQNXF, NCBDF, CCOEF, UBSFF, UBSFY, TCTZF, TCEHY, GAMR, HEAR, KNAMF, NTDOF, SGAMF, CRSR, CCOEY, NCBDY, KNMCY, SE, SQNNY, ESPO, NERD, SKLZ, RBLX, PLTK, KONMY
By:

Jason Aycock,

SA News Editor
4 Comments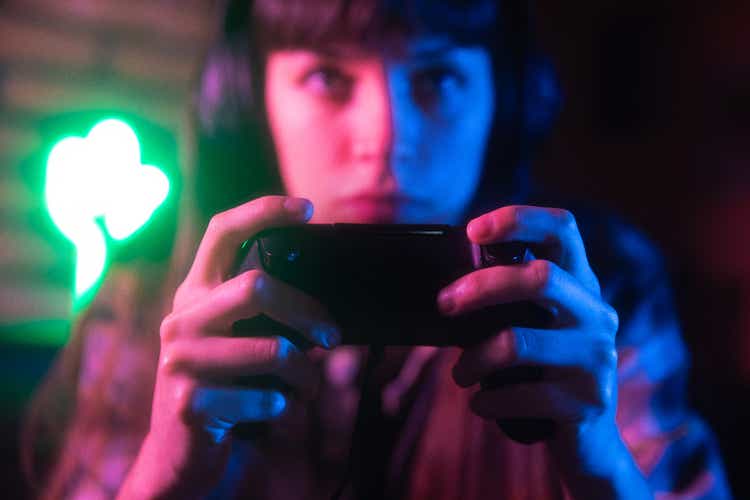 Videogame sales marked their first industrywide year-over-year gain in more than a year in November, logging a 3% increase as holiday shopping started to bring sharp rebounds in consoles and accessories.
Overall sales in November rose from the previous November to $6.286B, according to NPD Group. Sales in October had been flat year-over-year, and prior to that had seen 11 straight months of declines from the previous period.
And while videogame content sales reversed back to a decline, falling 5% from the previous November (to $4.742B), hardware sales jumped 45% to $1.254B, led by Sony's (NYSE:SONY) PlayStation 5, the month's best-seller in unit and dollar terms, ahead of Nintendo's Switch (OTCPK:NTDOY).
Accessory sales also rose, by 10% to $289M, pushed by double-digit percentage gains both in gamepads and in headset/headphones, analyst Mat Piscatella notes. The best-selling accessory of November was the PlayStation 5 DualSense Wireless Controller Galactic Purple.
Game content was lifted by Call of Duty: Modern Warfare II (NASDAQ:ATVI) repeating atop the dollar sales chart, and unsurprisingly becoming 2022's best seller along the way, passing Elden Ring (OTCPK:NCBDY). December's sales should help cement the latest CoD into its usual spot as the annual top seller. (For the latest on Microsoft's $69B deal to buy Activision Blizzard - much of which hinges on its planned treatment of CoD - check here.)
The shooter was followed in November by three new releases - God of War: Ragnarok (SONY) at No. 2; Pokemon: Scarlet/Violet (OTCPK:NTDOY) at No. 3; and Sonic Frontiers (OTCPK:SGAMY) at No. 4.
Rounding out the content top 10 for November: No. 5, Madden NFL 23 (EA); No. 6, FIFA 23 (EA); No. 7, NBA 2K23 (TTWO); No. 8, Gotham Knights (WBD); No. 9, Marvel's Spider-Man: Miles Morales (SONY); and No. 10, Mario Party Superstars (OTCPK:NTDOY).
Spending on mobile games continued to struggle, Sensor Tower notes, though casino games saw a continued surge even as role-playing games and shooters kept faltering. Mobile spending for Thanksgiving/Black Friday was down 5% from the previous year, and down 1% from 2020.
The top 10 mobile games in spending for November: Candy Crush Saga (ATVI), Roblox (RBLX), Royal Match, Coin Master, Clash of Clans, Evony, Pokémon Go (OTCPK:NTDOY), Township, Jackpot Party - Casino Slots, and Bingo Blitz (PLTK).
Related tickers: OTCPK:NTDOY, SONY, NASDAQ:MSFT, HEAR, LOGI, CRSR, EA, ATVI, TTWO, WBD, OTCPK:UBSFY, OTCPK:NCBDY, OTCPK:SQNNY, OTCPK:CCOEY, OTCPK:SGAMY, OTCPK:KNMCY, SKLZ, SE, NTES, OTCPK:TCEHY, RBLX. Retail stock: GME.