Egg prices said to hit records as bird flu thins poultry flocks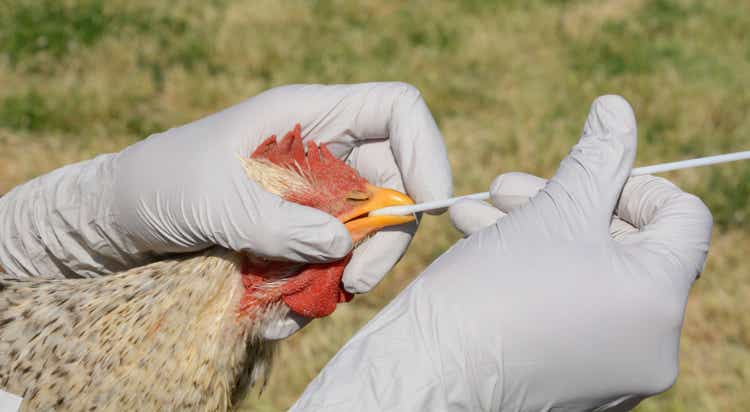 Egg prices this month have jumped to record levels as avian influenza kills tens of millions of chickens and turkeys throughout the United States. Wholesale prices for Midwest large eggs hit a record $5.36 a dozen, The Wall Street Journal reported, citing research firm Urner Barry.
The price for eggs at retail have surged more than 30% from January to early December compared with the same period in 2021, an increase that's greater than for any other item in grocery stores, according to Information Resources data cited by the newspaper.
About 58 million birds have died from highly pathogenic avian influenza, making it the worst outbreak in U.S. history, data from the Department of Agriculture show. Poultry farms destroy entire flocks after confirming an infection to prevent further contagion.
The rise in egg prices comes as groceries get more expensive because of inflationary pressures, such as higher costs for labor, ingredients and distribution. The higher prices have helped supermarkets to boost sales and profits.
Grocers said they're sacrificing the profit margin on eggs to keep prices competitive for consumers, the Journal reported. The price for the kitchen staple may decline by February or March, according to suppliers cited by the newspaper.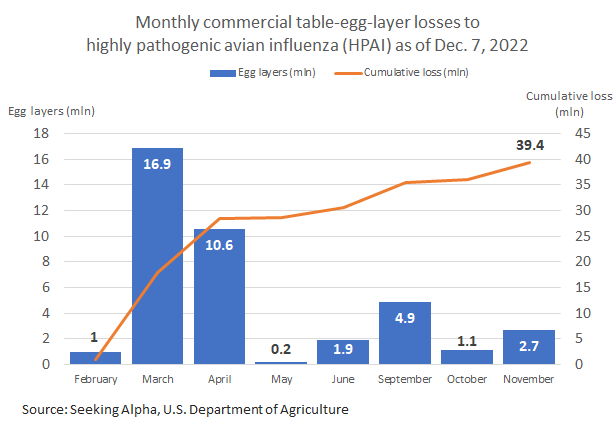 Tickers: Albertsons (ACI), BJ's Wholesale (BJ), Cal-Maine (CALM), Casey's General Stores (CASY), Costco (COST), Hormel (HRL), Kroger (KR), Pilgrim's Pride (PPC), Sprouts Farmers Market (SFM), Sysco (SYY), Target (TGT), Tyson (TSN), Walmart (WMT)