AMC Entertainment plunges 25% as company raises equity, swaps debt and converts APEs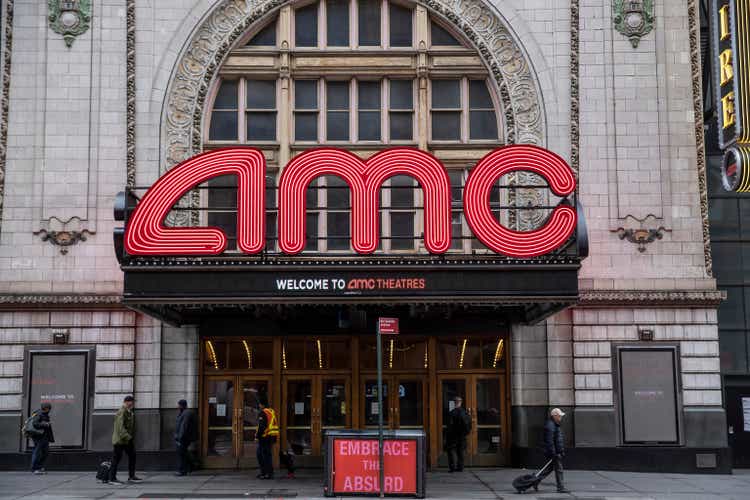 AMC Entertainment (NYSE:AMC) shares plunged more than 25% in premarket trading on Thursday as the movie theater chain announced a slew of financial transactions, including raising $110M in equity, swapping debt for equity and said it was considering converting preferred shares into common stock.
As part of the announcement, AMC Entertainment (AMC) said it would sell AMC Entertainment Hldg Pref Equity Units (APE) to Antara Capital at a weighted average price of $0.66 per share. The closing price yesterday was $0.685.
APE shares soared more than 113% to $1.46 in premarket trading, while AMC's (AMC) common stock plunged on the news.
In addition, AMC (AMC) said it cut its debt load by $100M, reducing its 2nd lien notes due in 2026 that were held by Antara in exchange for the 91M APE units.
The company also said it intended to have a special shareholder meeting to vote on proposals from its board of directors to convert APE units into common stock and reverse split its stock at a 1-10 ratio.
"AMC's ongoing capital raising efforts and balance sheet strengthening continues in earnest," Adam Aron, Chairman and CEO of AMC Entertainment said in the statement.
"Clearly, the existence of APEs has been achieving exactly their intended purposes," Aron added. "They have let AMC raise much welcomed cash, reduce debt and in so doing deleverage our balance sheet and allow us to explore possible M&A activity. However, given the consistent trading discount that we are routinely seeing in the price of APE units compared to AMC common shares, we believe it is in the best interests of our shareholders for us to simplify our capital structure, thereby eliminating the discount that has been applied to the APE units in the market."
On Wednesday, it was reported that AMC Entertainment (AMC) ended its talks with Cineworld (OTCPK:CNNWQ) lenders to buy some theaters in the U.S. and Europe.