DOT investigates Southwest Airlines over 'unacceptable' flight cancellations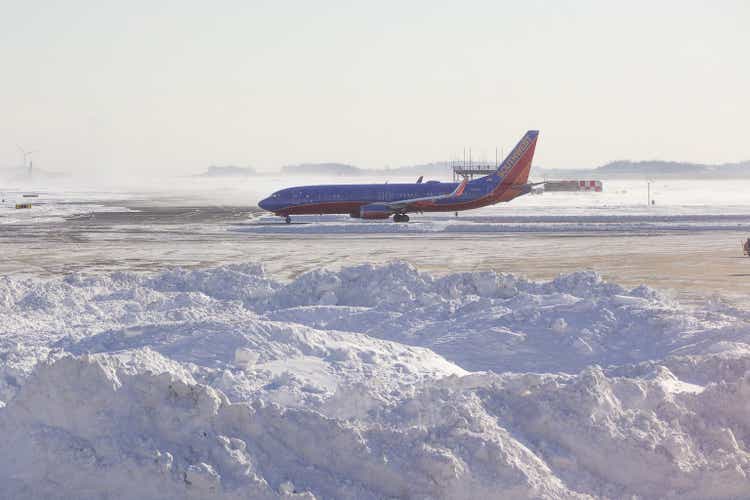 Travel was upended from coast to coast over the Christmas holiday weekend, as snow, wind and subfreezing temperatures enveloped much of the country. That derailed the plans for many a flyer, as well as the operations of airlines that saw planes freeze overnight and many airports run out of space for de-icing. No one appeared to be hit as hard as Southwest Airlines (NYSE:LUV), however, with travelers complaining of long lines to rebook flights and retrieve baggage, as well as unanswered phone calls to customer service. LUV -3.3% premarket to $34.90/share.
What happened? Southwest (LUV) embarked on a major expansion to new cities during the pandemic, but that left it vulnerable to disruptions when things went wrong. As opposed to flying around central hubs, Southwest planes zig-zag across the country, making it tougher to reserve pilots and flight crews when its systems can't keep up with scheduling changes. The airline has even ramped up staffing above 2019 levels, and said it would restore its quarterly dividend early next year, but it has more work to do to settle the skies.
Calling it the "largest scale event that I've ever seen," Southwest (LUV) CEO Bob Jordan extended his "heartfelt apologies" following the extreme winter weather. The airline canceled 2,893 flights on Monday, or 70% of scheduled flights, after scrapping 48% of them on Sunday and canceling a total of more than 8,000 flights since Thursday. About 60% of the carrier's planned schedule for Tuesday was also scrubbed, and more are on tap for Wednesday, despite improving conditions and warming temperatures.
Under investigation: "The U.S. Department of Transportation is concerned by Southwest Airlines' disproportionate and unacceptable rate of cancellations and delays as well as the failure to properly support customers experiencing a cancellation or delay," according to a press statement. "USDOT will closely examine whether cancellations were controllable and whether Southwest is complying with its customer service plan as well as all other pertinent DOT rules."