REIT stocks languished in 2022, but SA authors picked some winners
Dec. 31, 2022 12:00 PM ET
Gaming and Leisure Properties, Inc. (GLPI), VICI
LEN, BAM, O, DHC, LXRX, AKR, XLRE, SAFE, ILPT
By:

Liz Kiesche,

SA News Editor
15 Comments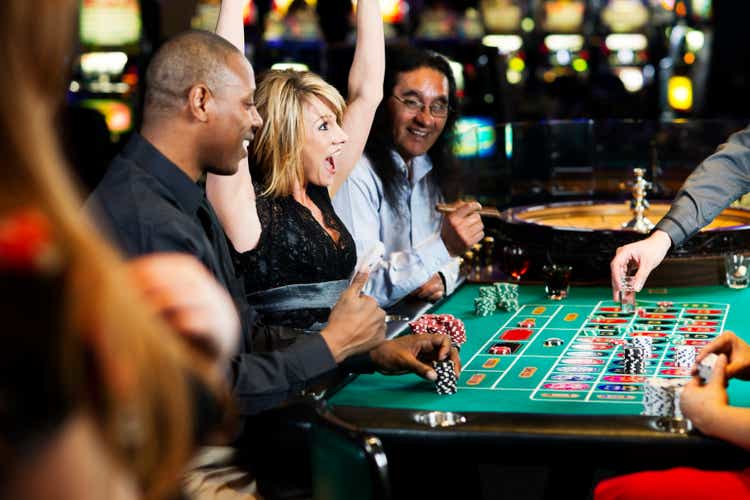 REIT stocks overall trailed the S&P 500 during 2022 as the Federal Reserve's aggressive rate hikes made borrowing more expensive and acquisition activity slowed.
Seeking Alpha editors identified some of the best calls in the sector, though, where specific stocks came through.
Two REITs stood out for their gains -- both casino landlords. Vici Properties (NYSE:VICI) and Gaming and Leisure Properties (NASDAQ:GLPI) represented the only names to show significant price appreciation for the year out of the 85 REIT and real estate stocks with market caps over $2B that publicly trade.
VICI rose almost 8% in 2022 excluding dividends, while Gaming and Leisure Properties (GLPI) gained about 7%. By contrast, the S&P U.S. Equity All REIT Index sank some 27% for the year and the S&P 500 fell 19.4%.
During Q1, SA author Jonathan Weber picked four REIT stocks that all ended up beating the S&P 500's weak 2022 performance, but only VICI shares actually finished the year higher.
"VICI's rent collection remained strong even during the pandemic, and its results and dividend continues to improve," Weber wrote.
Bradley Guichard chose Vici (VICI) as one of his three top picks for 2022. He noted that the gaming REIT had managed to increase revenue and adjusted FFO even in 2020, when COVID shut down the Las Vegas Strip.
"VICI went through its own ultimate stress test in the Spring of 2020 and passed with flying colors," Guichard wrote.
Dane Bowler pointed SA readers to VICI over REIT stalwart Realty Income (O), as VICI traded "at a massive discount to O."
Meanwhile, SA contributor Howard Jay Klein picked Gaming & Leisure Properties (GLPI) in February. "It was the track record of GLPI since its inception that confirmed to me the conviction that it, and its prime competitor, Vici Properties (VICI), that casino REITs were stocks that belonged in every gaming portfolio," he wrote.
Where It Paid to be More Bearish
With the Federal Reserve tightening financial conditions to tamp down inflation, most other areas in the interest-rate sensitive real estate industry suffered in 2022.
Industrial Logistics Properties Trust (ILPT), Diversified Healthcare Trust (DHC), and Safehold (SAFE) fared the worst of REIT stocks in 2022.
In July, Daniel P. Varga turned bearish on Industrial Logistics (ILPT) after the REIT slashed its dividend by 97% soon after its Monmouth Real Estate Investment acquisition. The $4B transaction gave ILPT "several great" properties but its debt ratio skyrocketed to almost 65% from 39%, he said.
"Realistically I do not expect any major changes in the dividend in the next 12-15 months," he said. "I no longer see ILPT as a primary target for income investors not even after the possible future dividend reinstatement."
Avisol Capital Partners put a Sell rating on Diversified Healthcare Trust (DHC) in May, writing that "DHC has suffered much more than the other [senior housing operating portfolio] focused REITs due to its faulty business model."
In essence, Avisol argued that DHC's agreement with Five Star Senior Living, its biggest operator, limited the REIT's ability to sell poorly performing properties. Avisol suggested investors buy Sept. 20 $2.50 put options, which were available at $0.50 in May. (On Sept. 20, DHC closed at $1.26).
Meanwhile, Dane Bowler issued a Strong Sell on ground-lease REIT Safehold (SAFE) in August, citing excessive management compensation, declining cash earnings, and high valuation.
"Ground leases are in many ways low risk, but they are also low return which means to make a ground lease REIT work, the company has to be run very lean," he wrote.
What to Watch in 2023
Looking ahead to the new year, Daniel P. Varga points to Brookfield Asset Management (BAM) for its long-term investing strategy, while Dane Bowler picks Lennar (LEN), as he believes Q1 2023 is likely to be the homebuilder's trough quarter.
Bowler is also bullish on shopping sector REITs and picked Acadia Realty (AKR) for its valuation.