Salesforce shares climb as CEO says company 'hired too many people'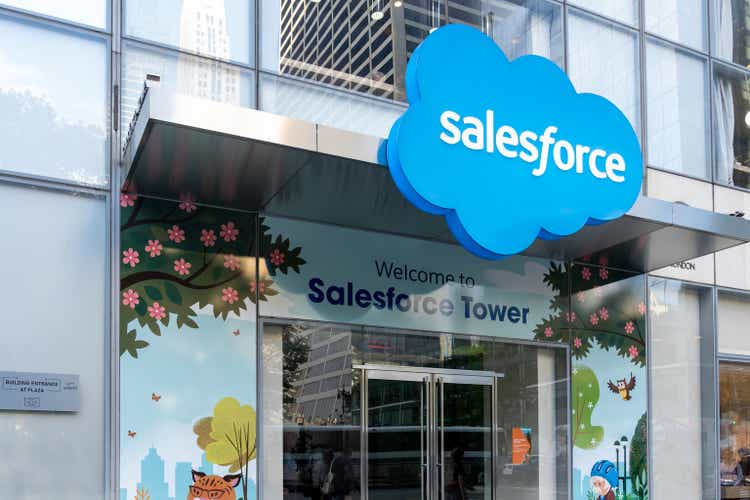 Salesforce (NYSE:CRM) shares rose more than 3% Wednesday as company Chief Executive Marc Benioff said the cloud-based business-software company has "hired too many people" and would cut 10% of its workforce,
Benioff made the announcement in a filing with the U.S. Securities and Exchange Commission prior to the start of trading. Like many companies, Salesforce (CRM) got a boost in sales for the better part of two years as businesses allowed millions of employees to work from home due to the COVID-19 pandemic. In a letter to Salesforce (CRM) employees, Benioff said that the company ramped up its hiring "as our revenue accelerated through the pandemic," but that the "economic downturn we're now facing" has led Salesforce (CRM) to its current job-cut situation.
"I take responsibility for that," Benioff said, regarding Salesforce's (CRM) excessive wave of hiring.
Based on recent Salesforce (CRM) data, the job cuts will amount to about 7,350 employees.
Salesforce (CRM) made the announcement in the wake of what was by all accounts a tough year for the company's stock, and its investors. Salesforce shares fell 44% in 2022, and touched a 52-week-low of $126.34 on December 22.
In his letter, Benioff praised Salesforce's (CRM) employees and their "incredible resilience" as "the [current] environment remains challenging. Benioff said affected employees in the U.S. would receive five months of pay, health insurance, career resources, and other benefits.
Wedbush analyst Dan Ives called Salesforce's (CRM) job cuts "a smart poker move" to try to preserve its profit margins during "an uncertain [economic] backdrop."
Ives said he believes the job cuts "are tied to preparing the company to navigate the softer demand environment" while also seeing longer sales cycles "and a higher level of uncertainty in the field impacting its overall billings growth."
Ives maintained his outperform rating on Salesforce (CRM) and said that the company's shares are "compelling at current valuations for investors willing to hold this core cloud stalwart stock."
In addition to its job cuts, Salesforce (CRM) spent 2022 dealing with the departures of several top executives, including co-CEO Bret Taylor, who is leaving the company at the end of January.