Retail stocks slump after Bed, Bath & Beyond warning, ICR Conference jitters
Jan. 05, 2023 11:51 AM ET
Bed Bath & Beyond Inc. (BBBY)
AEO, ANF, GPS, GME, URBN, WWW, XRT, LE, VSCO, BIRD, LVLU
By:

Clark Schultz,

SA News Editor
20 Comments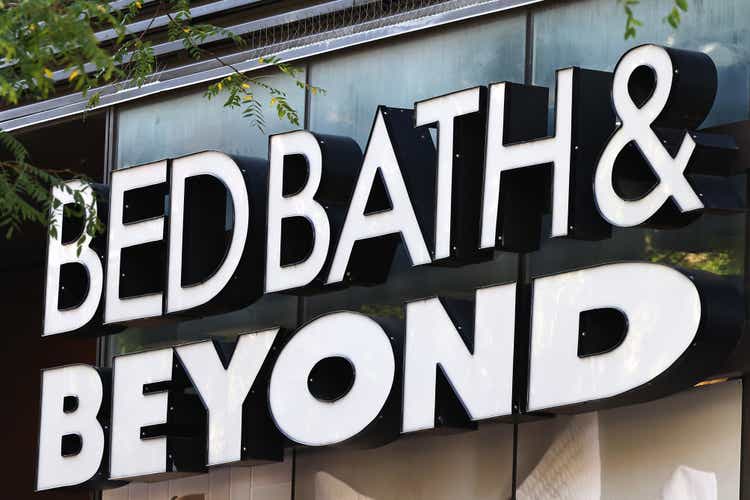 Bed Bath & Beyond (NASDAQ:BBBY) fell to its lowest level ever after warning that it may not survive. Shares traded as low as $1.81 on Thursday and were off 24.69% at 11:48 a.m. on volume of over 20M.
The retailer said it continues to pursue actions and steps to improve its cash position and mitigate any potential liquidity shortfall. However, based on recurring losses and negative cash flow from operations for the nine months ended November 26, as well as current cash and liquidity projections, it has concluded that there is "substantial doubt" about the company's ability to continue as a "going concern."
"The turnaround plan put in place last year is not working... Put bluntly the business is moving at rapid speed in the wrong direction with bankruptcy the most likely destination," noted GlobalData analyst Neil Saunders on the latest BBBY twist.
On Wall Street, Wells Fargo analyst Zachary Fadem lowered the price target on Bed Bath & Beyond (BBBY) to $2.00 from $3.00 while keeping an Underweight rating. KeyBanc Capital Markets went even lower with a PT cut on BBBY to $0.10 from $2.00. The firm believes creditors are in the best position to realize value from assets such as buybuy BABY.
Some other stocks swinging lower that may be tied more to general retail sector jitters than collateral damage from the BBBY update include Lands' End (LE) -10.97%, GameStop (GME) -6.20%, Allbirds (BIRD) -7.85%, Abercrombie & Fitch (ANF) -4.29%, Urban Outfitters (URBN) -4.25%, Lulu's Fashion Lounge (LVLU) -3.25%, and American Eagle Outfitters (AEO) -3.15%. Analysts have warned that next week's ICR Conference could include some notable guidance cuts. Meanwhile, mall stocks Wolverine World Wide (WWW) -9.05%, Victoria's Secret (VSCO) -8.55%, and Gap (GPS) -2.15% are all lower after analyst downgrades were added to the mix.
The SPDR S&P Retail ETF (XRT) was underperforming the broad market with a 1.42% drop.
Sector watch: UBS picks out stocks to avoid and those to hold amid expectation for a retail earnings crunch.