PPG Industries downgraded to Sector Perform at RBC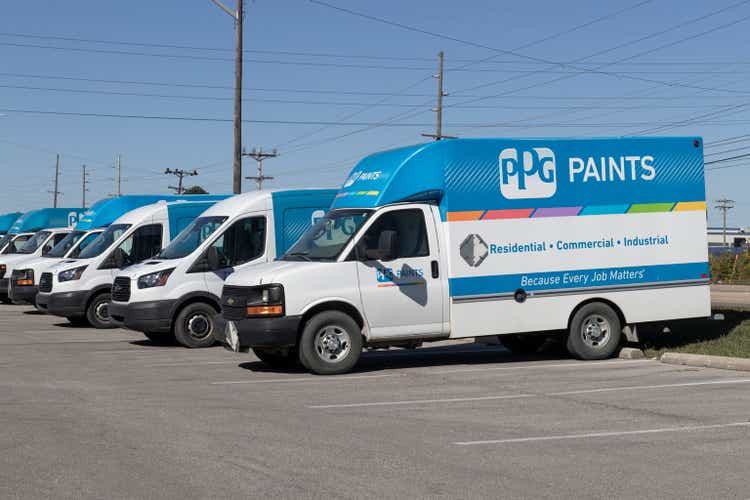 PPG Industries (NYSE:PPG) on Tuesday was downgraded to Sector Perform from an investment rating of Outperform by analysts at RBC Capital Markets. They said the maker of paints, coatings and specialty materials has limited possibility for gains in its stock price.
Weakness in key markets such as Europe and China, inventory destocking, a slow recovery in the automotive industry, general economic weakness and a stock price that already reflects pricing and margin strength are reasons for the rating change.
"Given the diversity of PPG's (PPG) end markets and geographical exposure, we expect the stock to underperform versus peers in an economic downturn," Arun Viswanathan, analyst at RBC, said in a January 10 report. "We expect PPG and PPG customers to be focused on destocking and right sizing their inventory levels during 2023, which will put pressure on free cash flow."
RBC lowered its earnings estimates for PPG (PPG) while also raising its price target for the stock to $129 a share from $128 a share, based on an enterprise value-to-EBITDA multiple of 13.5 times its EBITDA estimate of $2.6 billion.
"PPG's (PPG) historical multiple has been 9 times to 17 times EBITDA, and we believe our target multiple is warranted given the margin benefits that PPG (PPG) has gained through its strategic review, price/cost initiatives and acquisitions," according to RBC. "Our price target supports our Sector Perform rating."
PPG (PPG) in the past 12 months has fallen 22%, compared with a 17% decline for the Standard & Poor's 500 stock index (SP500).
Seeking Alpha contributor Wolf Report rates PPG (PPG) as a Buy on its business fundamentals. Contributor The Value Investor has a Hold rating on PPG (PPG) because of economic uncertainties.
RBC Capital's estimates for PPG Industries Inc. (PPG)
EPS, adjusted diluted
New
Old
Q1 2023
$1.27
$1.39
Q2 2023
$1.81
$1.90
Q3 2023
$1.85
$1.89
Q4 2023
$1.52
-
FY 2023
$6.45
$6.70
FY 2024
$7.45
$7.60