Food inflation runs hot again in CPI report including egg prices up 60%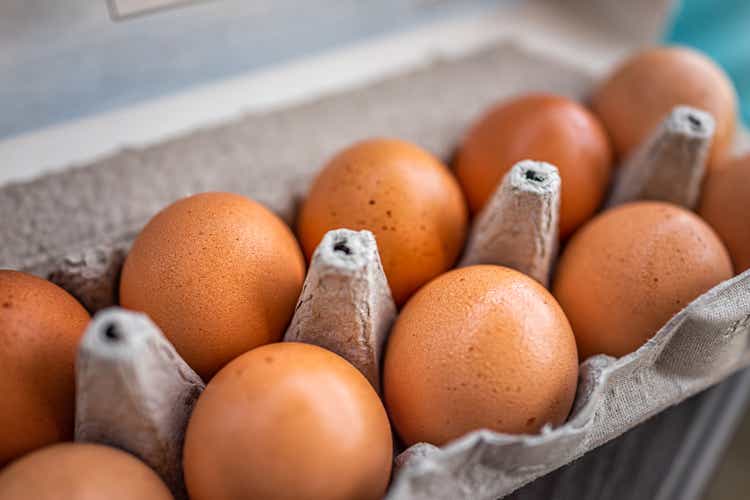 Consumer prices rose 6.5% in December in comparison to last year to cool off from the 7.1% pace in November. Core CPI was up 5.7% year-over-year and 0.3% higher on a month-to-month view to match estimates.
Overall, food prices were up 10.4% in December from a year ago and tracked 0.3% higher from November. Some of the food categories that are still showing elevated levels of inflation include breakfast cereal (+13.0% Y/Y), flour (+23.4%), poultry (+12.2%), lettuce (+24.9%), bakery products (+16.3%), and coffee (+14.3%). Meat prices moderated quite a bit and were only up 2.0% year-over-year.
Meanwhile, amid heightened social media awareness on the price of eggs the category showed a 59.9% year-over-year rise for December and was 11.1% higher month-over-month. Cal-Maine (CALM) is in general one of the biggest beneficiaries of higher egg prices. The stock gained more than 30% last year after inflation, strong demand, and an avian flu outbreak contributed to higher prices. Of note, over 60M birds have died from highly pathogenic avian influenza, making it the worst outbreak in U.S. history, per data from the Department of Agriculture.
What to watch: Packaged food stocks like SunOpta (STKL), Lamb Weston (LW), WestRock Coffee Company (WEST), MGP Ingredients (MGPI), Post Holdings (POST), General Mills (GIS), Campbell Soup (CPB), Lifeway Foods (LWAY), Lancaster Colony (LANC), Bridgford Foods Corporation (BRID), TreeHouse Foods (THS), and Hostess Brands (TWNK), and Kraft Heinz Company (KHC) have all been double-digit gainers over the last 52 weeks to smash the returns of the broad market. Elevated food prices also typically provide a margin lift to major retailers. Watch Walmart (WMT), Target (TGT), Kroger (KR), Albertsons (ACI) and Costco (COST) for a extra margin boost if some of their inflation costs moderate, but higher food prices prove to be sticky.