Passengers should wear masks on long-haul flights amid COVID subvariant spread - WHO
Jan. 12, 2023 12:33 PM ET
Delta Air Lines, Inc. (DAL), AAL, UAL, DLAKF
DLAKY, AFLYY, AFRAF, BABWF, ICAGY
By:

Jonathan Block,

SA News Editor
21 Comments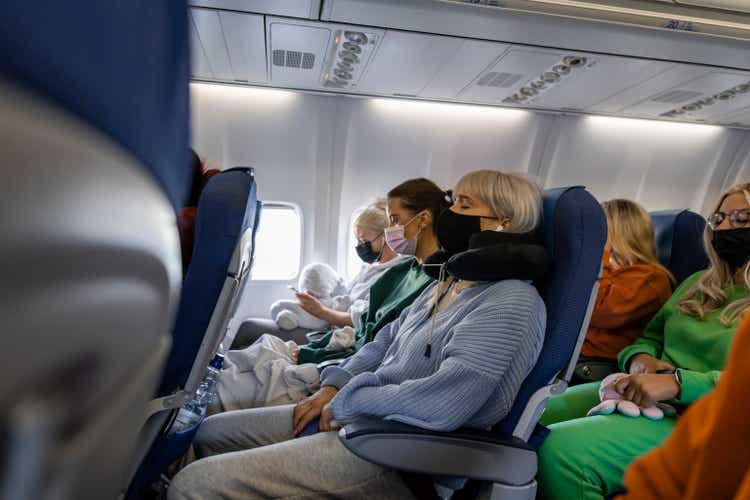 The World Health Organization said that airline passengers should wear masks on long-haul flights as the COVID-19 Omicron subvariant XBB.1.5 continues to spread.
"This should be a recommendation issued to passengers arriving from anywhere where

there is widespread COVID-19 transmission," Catherine Smallwood, senior emergency officer, WHO Regional Officer for Europe, said at a news briefing,

Euronews

reported.

In the U.S., XBB.1.5 is accounting for a growing percentage of COVID cases. XBB.1.5's influence in Europe is less than in the US, but growing, according to WHO officials.
Long-haul airline stocks: United Airlines (NASDAQ:UAL), American Airlines Group (NASDAQ:AAL), Delta Air Lines (NYSE:DAL), International Consolidated Airlines Group (OTCPK:ICAGY)(OTCPK:BABWF), Deutsche Lufthansa (OTCQX:DLAKF)(OTCQX:DLAKY), and Air France-KLM (OTCPK:AFRAF)(OTCPK:AFLYY).
Many European countries -- and the U.S., Japan, and India -- are requiring negative COVID-19 test as a condition for entry for passengers from China.