White House COVID coordinator warns winter surges of infections will be new normal
Jan. 12, 2023 1:52 PM ET
Pfizer Inc. (PFE)
JNJ, MRK, HCA, NVAX, THC, CYH, UHS, SEM, SGRY, MRNA, BNTX
By:

Dulan Lokuwithana,

SA News Editor
104 Comments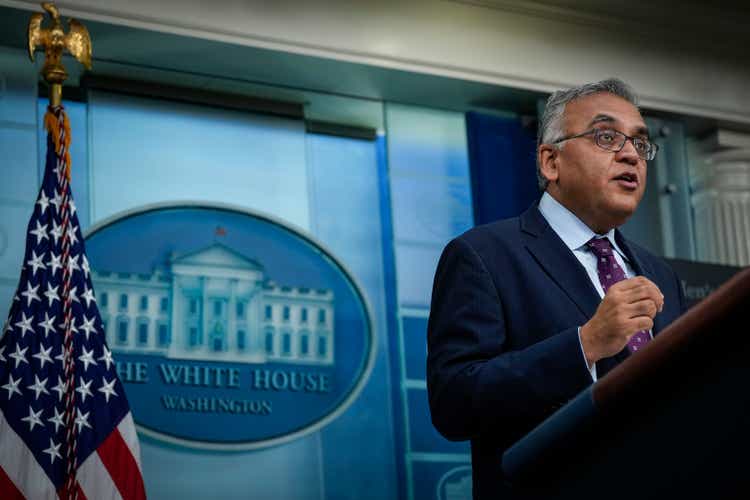 White House COVID-19 response coordinator Ashish Jha sees more severe and long-lasting winter surges of cold weather illnesses in the years to come with the addition of coronavirus to the disease landscape.
Leading to a so-called "tripledemic," COVID-19 has worsened recent U.S. winters – typically marked by the spread of the influenza virus and respiratory syncytial virus.
According to Jha, its impact on the U.S. healthcare system will be long-lasting, depriving non-COVID patients of the necessary care.
"I am worried that we are going to have, for years, our health system being pretty dysfunctional, not being able to take care of heart attack patients, not being able to take care of cancer patients, not being able to take care of the kid who's got appendicitis because we're going to be so overwhelmed with respiratory viruses for … three or four months a year," Jha told The Washington Post.
Jha predicts COVID-19 will cause the usual winter surge of patients to begin earlier than expected — in August or September.
"I just think people have not appreciated the chronic cost, because we have seen this as an acute problem," he noted, adding, "We have no idea how hard this is going to make life for everybody, for long periods of time."
COVID vaccine makers: Pfizer (NYSE:PFE)/ BioNTech (BNTX), Moderna (MRNA), Johnson & Johnson (JNJ) and Novavax (NVAX)
Makers of COVID-19 pills: Pfizer (PFE), Merck (MRK)
Healthcare providers: HCA Healthcare (HCA), Community Health Systems (CYH), Surgery Partners (SGRY), Tenet Healthcare (THC), Universal Health Services (UHS), Select Medical Holdings (SEM)
Jha's comments come amid a fast-changing COVID landscape in the U.S. as the immune-evasive Omicron subvariant XBB account for an increasing number of cases, which prompted the Biden administration on Wednesday to extend the pandemic emergency for another 90 days.