Citigroup Q4 earnings beat consensus, but stock declines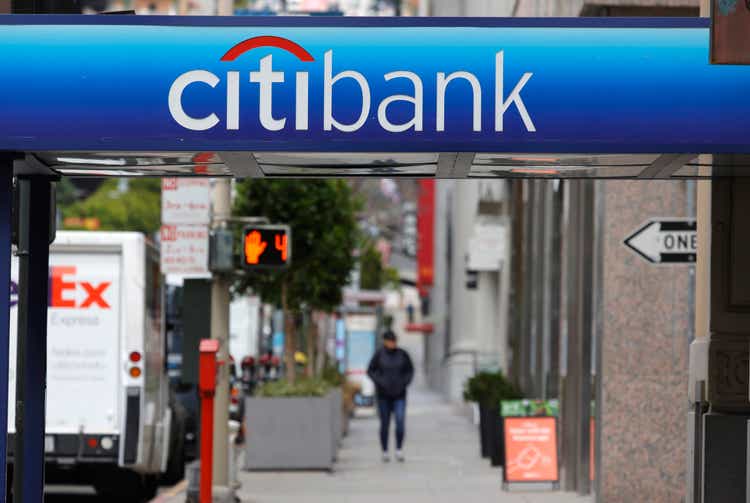 Citigroup (NYSE:C) stock slipped 2.7% in Friday premarket trading even after the bank reported better than expected Q4 earnings and revenue. Other big banks reporting Q4 earnings on Friday also saw shares decline, including JPMorgan Chase (JPM), Bank of America (BAC), and Wells Fargo (WFC).
Q4 adjusted EPS of $1.10, beating the $1.21 consensus estimate, fell from $1.50 in Q3.
Revenue of $18.B, topping the $17.97B average analyst estimate, slipped 3% from Q3 and rose 6% Y/Y.
"With their revenues up 32%, Services delivered another excellent quarter, and we have gained significant share in both Treasury and Trade Solutions and Securities Services," said CEO Jane Fraser.
Q4 operating expenses were $13.0B, up 2% Q/Q and down 4% Y/Y.
Q4 net credit losses of $1.18 vs. $887M in Q3 and $866M in the year-ago quarter. Net allowance credit build of $640M compares with $370M in the prior quarter and release of $1.37B in the year-ago quarter. Total cost of credit was $1.85B in Q4 vs. $1.37B in Q3 and benefit of $465M in Q4 2021.
Institutional Clients Group revenue of $9.16B, fell 3% Q/Q and rose 3% Y/Y.
Personal Banking and Wealth Management revenue of $6.10B, slipped 1% Q/Q and rose 5% Y/Y.
Legacy Franchises revenue of $2.10B dropped 20% Q/Q and 6% Y/Y.
Conference call at 11:00 AM ET.
Earlier, Citigroup (C) non-GAAP EPS of $1.10 misses by $0.10, revenue of $18B beats by $30M.