Wells Fargo stock dips as Q4 revenue misses, credit loss provision jumps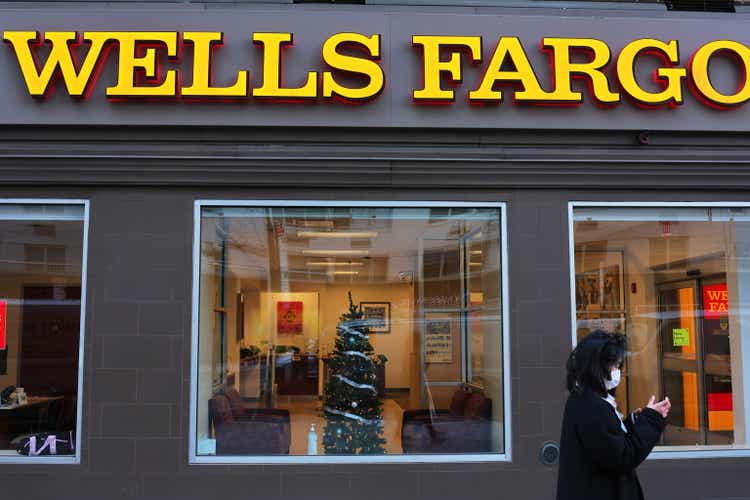 Wells Fargo (NYSE:WFC) stock dropped 4.0% in Friday premarket trading after the bank's revenue fell short of Wall Street expectations and its provision for credit losses was larger than expected. Q4 earnings reflected previously disclosed operating losses.
Total revenue of $19.7B, trailing the $20.04B consensus, increased from $19.5B in the prior quarter and fell from $20.9B in the year-ago period.
Q4 GAAP EPS of $0.67, surpassing the $0.61 consensus, fell from $0.85 in Q3 and $1.38 in Q4 2021.
Q4 2022 EPS included $0.70 of operating losses for previously disclosed matters including litigation, regulatory, and customer remediation matters, $0.15 impairment of equity securities, $0.07 of severance expense, primarily in Home Lending, and $0.13 of discrete tax benefits. Excluding those items, Wells Fargo's EPS would be $1.46 vs. $1.10 consensus.
"Though the quarter was significantly impacted by previously disclosed operating losses, our underlying performance reflected the progress we are making to improve returns," said CEO Charlie Scharf. "Rising interest rates drove strong net interest income growth, credit losses have continued to increase slowly but credit quality remained strong, and we continue to make progress on our efficiency initiatives."
Provision for credit losses was $957M vs. Visible Alpha consensus of $852M, increased from $784M in the prior quarter and compared with a benefit of $452M in the year-ago quarter.
Q4 noninterest income of $6.23B vs. $7.41B in Q3 and $11.6B in Q4 2021.
Net interest income climbed to $13.4B from $12.1B in Q3 and from $9.26B in Q4 2021. Net interest margin on a taxable equivalent basis was 3.14% vs. 2.83% in the previous quarter and 2.11% a year earlier.
Q4 noninterest expense was $16.2B, up from $14.3B in Q3 and from $13.2B in Q4 2021.
Loans of $948.5B vs. $945.5B in Q3; deposits were $1.38T vs. $1.41T in the previous quarter.
Conference call at 12:00 PM ET.
Earlier, Wells Fargo (WFC) GAAP EPS of $0.67 beats by $0.06, revenue of $19.66B misses by $380M.