UnitedHealth Q4 revenue grows 12% Y/Y, reaffirms FY23 outlook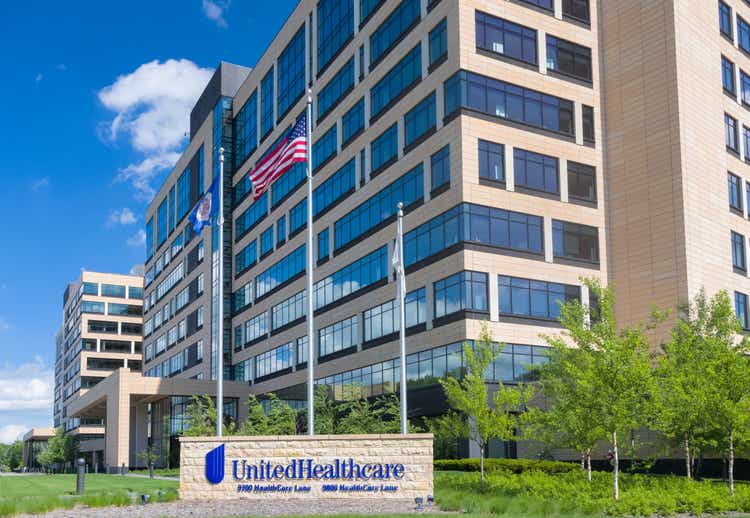 UnitedHealth Group (NYSE:UNH) is trading higher premarket on Friday after Q4 results beat estimates.
Q4 adjusted EPS increased +19.2% Y/Y to $5.34, while GAAP EPS rose +18.08% to $5.03.
Q4 total revenues grew +12.3% Y/Y to $82.79B.
The company's full year 2022 revenues grew +13% Y/Y to $324.16B with double digit growth at both Optum and UnitedHealthcare, driven mainly by serving more people, UNH noted.
Full year 2022 earnings from operations increased +19% Y/Y to $28.4B.
UnitedHealth said the medical care ratio at 82.0% for full year 2022 and 82.8% for Q4 was consistent with the company's recent Investor Conference outlook.
Revenue from UnitedHealthcare — which provides health care benefits to individuals and employers, and Medicare and Medicaid beneficiaries — in Q4 grew +11.8% Y/Y to ~$63.05B.
The company said UnitedHealthcare's operating earnings increased for full year 2022 operating earnings were $14.4B, compared to $12B last year, reflecting growth in people served and continued medical and operating cost management.
UNH noted that people served domestically by UnitedHealthcare grew by over 1.2M in 2022, led by the company's community-based and senior offerings.
Revenue from Optum, which provides services to the global health care marketplace, in Q4 grew +16.5% Y/Y to $47.87B, while earnings from operations increased +17.65% to $4B.
The company added that Optum Health revenue per consumer served increased by 29% in 2022, due to growth in patients served under value-based arrangements; expansion of care delivery services, including in-home, clinic-based, ambulatory surgery, behavioral and digital; and overall increasing acuity levels of care.
Optum Insight's revenue backlog increased by $7.6B in 2022 to $30B, driven by the addition of Change Healthcare and growth in comprehensive managed services, according to UNH.
The company noted that Optum Rx revenue growth of 9% in 2022 reflects expansion of its pharmacy care services, adding clinical value to medications, including specialty and community-based pharmacies. Adjusted scripts grew to 1.44B, compared to 1.37B last year.
UNH said cash flows from operations for the the group for full year 2022 were $26.2B or 1.3-times net income.
Outlook:
UnitedHealth Group affirmed its 2023 outlook set at its Nov. 29, 2022 Investor Conference.
The company expects revenues between $357B and $360B (consensus $356.17B).
Adjusted net earnings expected between $24.40 and $24.90 per share (consensus $24.95).
The company expects net earnings of $23.15 to $23.65 per share and cash flows from operations of $27B to $28B for 2023.
UNH +0.27% to $497 premarket Jan. 13