BNY Mellon Q4 earnings beat on higher rates even as AUM drops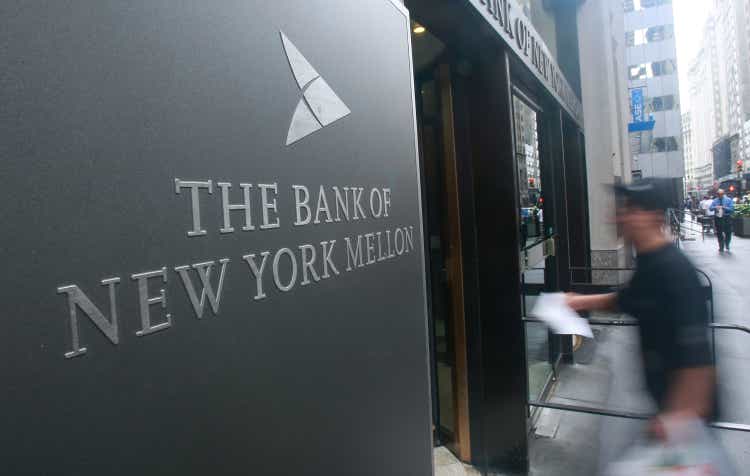 The Bank of New York Mellon (NYSE:BK) stock gained as much as 1.1% in Friday premarket trading as higher interest rates were a boon to its stronger-than-expected Q4 earnings, though market depreciation weighed on fee revenue and assets under custody and management.
"We continued to derive benefit from higher interest rates, and we saw healthy growth across several of our businesses despite the significant downdraft in market levels across global equity and fixed income markets," said President and CEO Robin Vince.
Q4 adjusted EPS of $1.30, topping the $1.14 consensus estimate, climbed from $1.21 in Q3 and from $1.04 in Q4 2021.
Revenue of $3.92B, falling short of the $4.19B consensus, fell from $4.28B in the prior quarter and from $4.02B a year before.
Total long-term strategies outflows came in at $6B in Q4, compared with inflows of $23B in Q3 and outflows of $4B in the year-ago period.
Assets under management of $1.8T dropped 25% from a year earlier, mostly reflecting lower market values and a stronger U.S. dollar, partially offset by client inflows and net new business. Assets under custody and/or administration of $44.3T retreated 5% from Q4 2021.
Noninterest expense was $3.21B, down from $3.68B in Q3 and up from $2.97B a year ago.
Provision for credit losses of $20M compared with a benefit of $30M in Q3 and a benefit of $17M in Q4 of last year, amid an increasingly uncertain economic outlook.
Conference call at 10 a.m. ET.
Earlier, BNY Mellon declared a quarterly dividend of $0.37 a share.