Faraday Future, Volta and TuSimple lead rally day for EV stocks
Jan. 18, 2023 10:26 AM ET
Faraday Future Intelligent Electric Inc. (FFIE)
TSLA, BLBD, NKLA, LEV, LAZR, VLTA, PTRA, CHPT, TSP
By:

Clark Schultz,

SA News Editor
3 Comments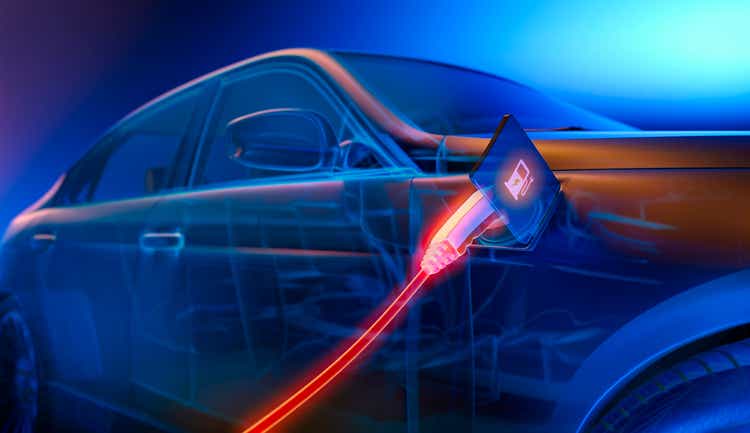 The electric vehicle sector was largely higher in Wednesday morning trading with several deals and partnerships redirecting the focus back on growth. There was also a positive read on Europe EV demand that was in the mix. GlobalData noted that Europe BEV sales should pick up speed this year, after a supply-constrained 2022 when the market expanded by just 21%.
"Europe's sluggish 2022 BEV growth will accelerate to 50% in 2023 as the chip crisis eases, although, that will continue to impact vehicle availability through 2023. The uptick in Europe will far outstrip the rate of growth in all light vehicles (LVs), meaning that the world BEV share will rise to 12.5%—one in eight LVs sold will be a full battery vehicle," noted Al Bedwell.
Faraday Future Intelligent Electric (NASDAQ:FFIE) ran up the biggest gain in the sector with a 20.06% jump to $0.57. The electric vehicle maker signed a shareholder agreement with holder FF Top.
Volta Industries (VLTA) rallied 17.10% after attracting an acquisition offer from Shell.
Luminar Technologies (LAZR) gained 7.38% in a move that could be related to the Volta M&A development.
Other notable gainers included Blue Bird Corporation (BLBD) +6.65%, TuSimple (TSP) +6.42%, ChargePoint Holdings (CHPT) +5.70%, Proterra (PTRA) +5.15%, and Lion Electric (LEV) +4.75%.
Tesla (TSLA) was up 1.59% in early trading as the EV stock looks to log another gain. On Seeking Alpha, author Robert Ribciuc issued a Sell recommendation. He noted that the market cap on TSLA is still about those of Toyota, Volkswagen, GM and Ford combined. "None of the PE's in the competitor group get to even 12x, and Tesla is subject to both earnings revisions and multiple compression," he warned.
Nikola (NKLA) moved 3.30% higher following an announcement on a new fueling solution for hydrogen fuel cell trucks.
Read more about Shell's deal to buy Volta.