Charles Schwab cut to Underperform from Buy at BofA as tailwinds seen easing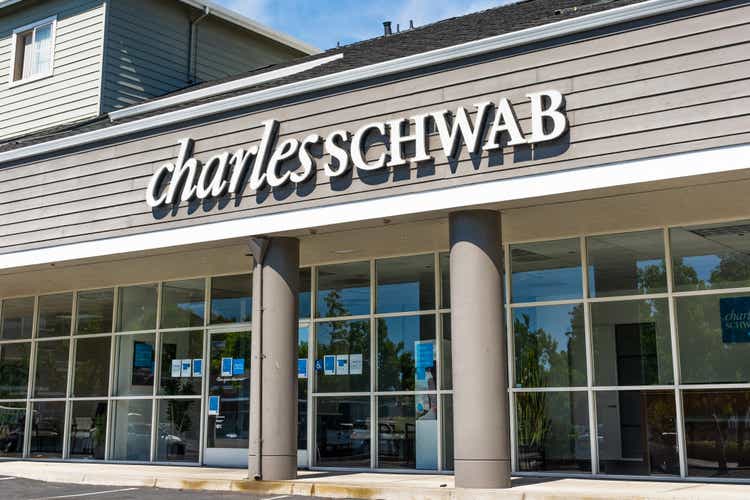 Charles Schwab (NYSE:SCHW) stock dropped 3.0% in Thursday premarket trading after BofA Securities analyst Craig Siegenthaler downgraded the brokerage stock to Underperform from Buy as he sees client cash sorting continuing at an elevated rate in H1 2023 and the Federal Reserve ending its rate hikes by this summer.
While Schwab (SCHW) is "arguably the biggest beneficiary of higher interest rates across diversified financials," Siegenthaler believes its revenue/profit growth will slow in 2023 due to balance sheet shrinkage due to client cash sorting combined with a waning tailwind from rising short-term interest rates.
"We expect this deceleration to occur in parallel with an improving fundamental backdrop for our asset manager coverage — with alternative asset manager industry currently trading at trough valuation on trough EPS," the analyst wrote in a note to clients.
He suggests investors move away from interest rate sensitive brokers and into alternative asset managers. He has Buy ratings on Blue Owl (OWL), KKR (KKR), and Ares Management (ARES).
Siegenthaler also stays bullish on less interest rate sensitive brokers, with Buy ratings on Interactive Brokers (IBKR), Focus Financial Partners (FOCS), and Ameriprise Financial (AMP).
For Schwab (SCHW), he lowered his EPS estimates for 2023 to $4.28 from $4.60 and for 2024 to $5.00 from $5.25.
Siegenthaler's Underperform rating contrasts with the SA Quant rating of Hold and the average Wall Street rating of Buy.
SA contributor North Post Research rates Schwab (SCHW) a Buy, saying declines in trading revenue have been exaggerated by investors.