Nordstrom slashes profit outlook after 'highly promotional' holiday season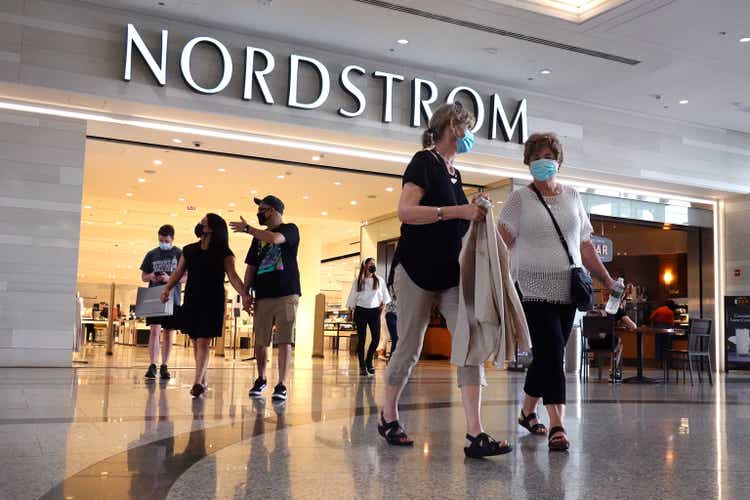 Nordstrom (NYSE:JWN) stock slumped in Thursday's extended session after cutting 2022 earnings expectations.
Management now sees revenue growth for the full-year at the low-end of its previously issued outlook of 5% to 7% due to slower than anticipated holiday sales. Additionally, significant markdowns offered in the season hit the bottom line, causing the company to cut its full-year adjusted EPS guidance to a range between $1.50 and $1.70, as compared with its prior outlook of $2.30 to $2.60.
"The holiday season was highly promotional, and sales were softer than pre-pandemic levels. While we continue to see greater resilience in our higher income cohorts, it is clear that consumers are being more selective with their spending given the broader macro environment," CEO Erik Nordstrom said.
He added that the goal of beginning 2023 with "clean inventory levels" required more markdowns than the company had previously anticipated. The company expects year-end inventory levels to be down by a double-digit percentage as compared to 2021, bringing the metric back to pre-pandemic levels.
"Having a healthier inventory level and mix positions us well to react quickly to changing consumer demand," Chief Brand Officer Pete Nordstrom commented. "Given the continued uncertain environment, we remain focused on executing with flexibility and agility, including conservative buy plans and faster inventory turns."
Shares of the Seattle-based apparel retailer fell 6.93% in after hours trading on Thursday. Department store peers Kohl's Corporation (KSS) -4.33%, Macy's (M) -2.63%, and Dillard's (DDS) -1.94% fell in sympathy during the extended session.
Nordstrom is anticipated to officially announce full-year results in early March.