BMO Capital analyst gets selective in insurance stock picks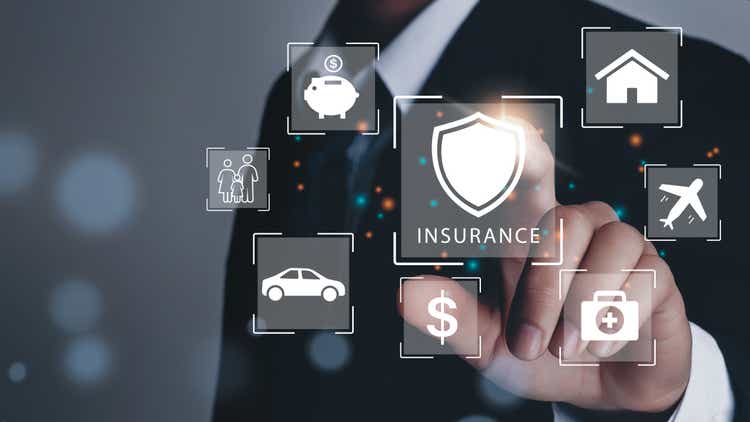 Starting coverage on 24 insurance companies, BMO Capital Markets analyst Michael Zaremski named Arthur J. Gallagher (NYSE:AJG), Brown & Brown (NYSE:BRO), Travelers (NYSE:TRV), and Progressive (NYSE:PGR) as his top picks. At the bottom of the heap, he rates insuretech stock Lemonade (NYSE:LMND) and Kinsale Capital (NYSE:KNSL) as Underperform.
Overall, "investor crowding into safety stocks has pushed multiples higher by 12% for insurance carriers and 24% for insurance brokers over the last eight months, leading our stock selection process to yield more Market Perform ratings," he said. That means investors need to be more selective in their choices, he said.
In the past year, Lemonade (LMND) is the only stock out of the above-mentioned stocks that fared worse than the S&P 500's 13% decline as seen in this graph. To compare the companies' key stats, click here.
For Arthur J. Gallagher (AJG), he sees "multiple upside margin surprise levers", such as its hiring onboarding, lower risk M&A roll-up runway, less real estate, and offshoring. In addition, the company stands to benefit from inflation, "a boon to brokers who get the benefit of rising premiums due to inflation, but don't share in underwriting risk of losses."
Inflation also helps broker Brown & Brown (BRO), which should benefit from "the expected upward inflection in commercial pricing power," Zaremski said.
Meanwhile, commercial insurer Travelers' (TRV) long-tail reserves provides "confidence" in overall reserves redundancy position, "which makes its way into EPS via better-than-expected profit margins."
P&C insurer Progressive (PGR) gets the Outperform rating as "this auto-focused insurer is able to swiftly turn on/off its customer acquisition funnel via its D2C (direct-to-consumer) channel to better manage inflation vs. its pees, he said. In addition, it has revamped its underwriting process with "peer-leading" telematics data.
Insurance broker also garnered an Outperform rating as inflation is an underappreciated source of EPS upside.
On the flip side, Lemonade (LMND) merits an Underperform rating as "the reinsurance capacity it relies on it manage its capital base is becoming scarcer and more expensive," Zaremski wrote. In addition, its acquisition cost expense ratio is too high.
The list of Market Perform-rated stocks are: Arch Capital (ACGL), American Financial (AFG), American International Group (AIG), Chubb (CB), Cincinnati Financial (CINF), Hartford Financial (HIG), Everest Re (RE), RenaissanceRe (RNR), Selective Insurance (SIGI), Hanover Insurance (THG), W.R. Berkley (WRB), Allstate (ALL), Aon (AON), Goosehead Insurance (GSHD), Marsh & McLennan (MMC), Willis Towers Watson (WTW), and MediaAlpha (MAX).
SA contributor JP Research digs into Arthur J. Gallagher's (AJG) inorganic growth playbook.