IBM beats Q4 expectations on software strength, will cut 1.5% of workforce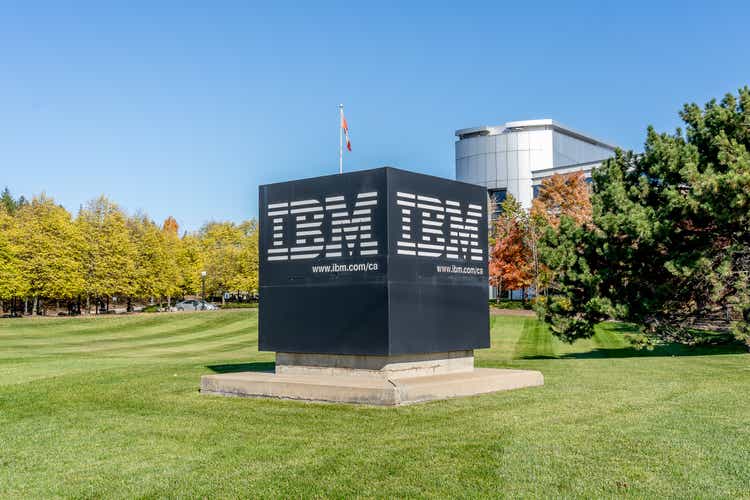 IBM (NYSE:IBM) shares rose nearly 1% in extended-hours trading after the IT services giant posted fourth-quarter results that were better-than-expected and said it would cut 1.5% of its workforce amid the slowing economy.
Armonk, New York-based IBM (IBM) earned $3.60 per share on $16.69B in revenue, including an 8% rise in constant currency from software-related revenue, accounting for $7.29B. A consensus of analysts expected the company to earn $3.61 per share on $16.38B in revenue.
The company added free cash flow during the period was $5.21B.
In addition to the quarterly results, IBM (IBM) CFO James Kavanaugh said the company would cut roughly 1.5% of its 260,000 global workforce, or about 3,900 jobs and would incur a $300M charge related to the job cuts. The cuts will focus on workers on those who remained after the Kyndryl and Watson Health spinoffs, Kavanaugh told Bloomberg.
Going forward, IBM (IBM) said it expects constant currency revenue growth to be in the mid-single digits for fiscal 2023. Additionally, it expects full-year free cash flow to be about $10.5B, up $1B year-over-year.
IBM (IBM) will hold a conference call at 5 p.m. EST to discuss the results.
Investment firm MoffettNathanson recently upgraded IBM (IBM) citing potential for strong IT services growth this year, despite – and in some cases even because of – recession concerns.