Weyerhaeuser Q4 earnings fall less than expected as revenue disappoints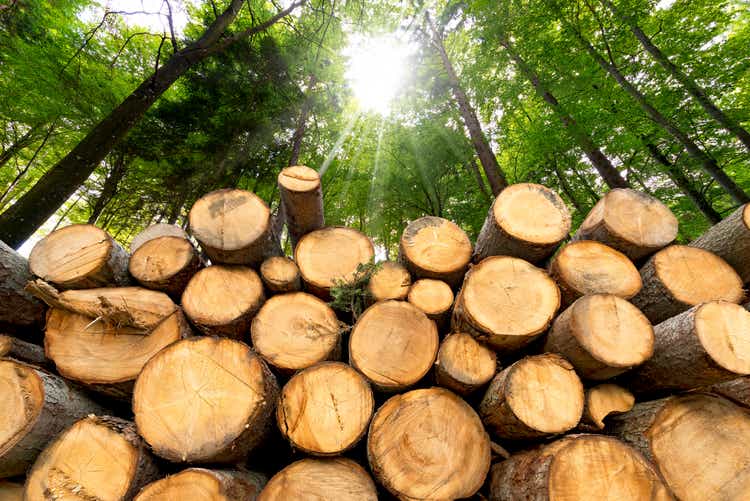 Weyerhaeuser (NYSE:WY) Q4 earnings didn't fall as much as the Wall Street consensus expected, but revenue and adjusted EBITDA both fell short. Looking ahead, the company expects its three major operating units to post higher adjusted EBITDA in Q1 2023.
"Our performance reflects strong execution across all businesses despite macroeconomic headwinds, supply chain disruptions and dynamic market conditions," said President and CEO Devin Stockfish.
Q4 non-GAAP EPS of $0.24 vs. $0.18 consensus, fell from $0.42 in Q3 and from $0.49 in the Q4 2021.
The non-GAAP figure excludes a $152M noncash settlement charge of $152M for a contract purchase that transferred ~$420M of the company's Canadian pension liabilities to an insurance carrier. The purchase was funded from Canadian pension plan assets with no company cash contribution required, Weyerhaeuser (WY) said.
Q4 net sales of $1.83B, missing the average analyst estimate of $1.92B, declined from $2.28B in the prior quarter and from $2.21B in the year-ago period.
Weyerhaeuser shares rose 1.2% in Thursday after-hours trading.
Q4 adjusted EBITDA of $369M, trailing the Visible Alpha consensus of $372M, dropped from $583M in Q3 and from $674M in Q4 2021.
Q4 general and administrative expenses were 104M vs. $100M in the prior quarter and $113M a year ago.
Timberlands adjusted EBITDA of $150M vs. $168M in Q3. The company expects the segment's Q1 adjusted EBITDA to be slightly higher than Q4.
Real Estate, Energy & Natural Resources adjusted EBITDA of $46M vs. $60M in Q3. The segment's adjusted EBITDA is expected to climb $35M from Q4 due to timing and mix of real estate sales. Full-year adjusted EBITDA is expected to be ~$300M.
Wood Products adjusted EBITDA of $197M vs. $395M in the prior quarter. For Q1, the segment's adjusted EBITDA is expected to be moderately higher than Q4, excluding the effect of changes in average sales realizations for lumber and oriented strand board.
Conference call on Jan. 27 at 10:00 AM ET.
Earlier, Weyerhaeuser (WY) non-GAAP EPS of $0.24 beats by $0.06, revenue of $1.82B misses by $100M