A Bed Bath & Beyond bankruptcy could be a boost to these stocks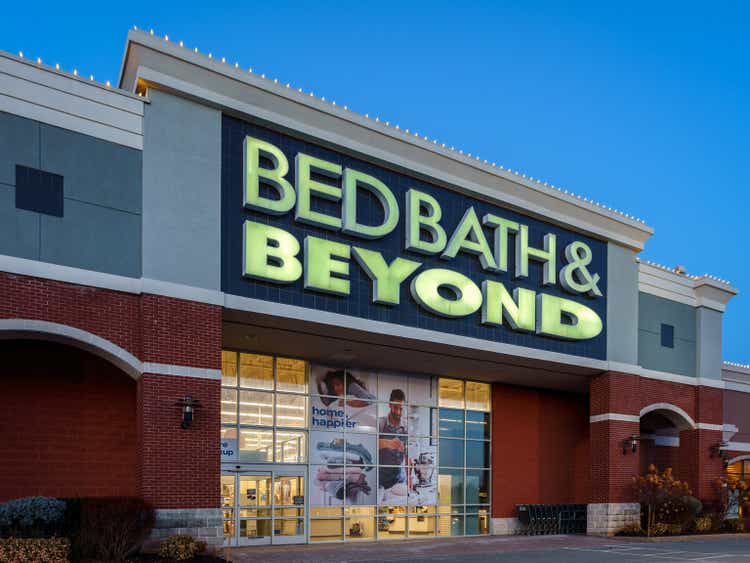 Struggling retailer Bed Bath & Beyond (NASDAQ:BBBY) appears to be at death's door, with a 10-Q signaling insolvency and subsequent reports indicating a lack of interested buyers for its assets.
According to Bloomberg, Bed Bath & Beyond (BBBY) has been unable to find a suitor to help stave off bankruptcy, placing the possibility for a Chapter 11 filing firmly on the table. Amid the insolvency concerns, shares have cratered over 20% in just a matter of days.
However, that is not necessarily bad news for the overall retail industry, according to analysts. Indeed, a liquidation is expected to aid a number of peers and competitors in terms of staffing shortages and market share.
Share Donor
Wedbush analyst Seth Basham advised clients that Wayfair (W) could be a big winner from Bed Bath & Beyond's misfortune.
"We forecast the total home furnishings industry's sales to decline 3% in 2023, but W to slightly grow sales given these factors; should Bed Bath & Beyond (BBBY) liquidate, that could drive another 3% to W's run-rate revenue growth," he told clients.
The potential tailwind was a key piece of his more bullish outlook on the stock, raising his rating from Neutral to Outperform. Basham also hiked his price target to $60 from a prior $38.
Beyond the home furnishings category, the likes of Kohl's Corporation (KSS) and Target (TGT) are also targeted by analysts as key beneficiaries. According to Oppenheimer, a full liquidation of Bed Bath & Beyond (BBBY) stores "could conservatively add in the shorter-term 50–100 bps to TGT comps and $0.14–0.28 to EPS."
Help Wanted
In addition to the sales and potential EPS impact, staffing shortages have hampered the retail sector and driven up wages. A liquidation could put thousands of retail employees in line for new positions at Target (TGT), Nordstrom (JWN), Kohl's (KSS), Macy's (M), or any of the myriad companies that have contended with labor cost headwinds.
In just the past week, Walmart (WMT) announced a hike to its national minimum wage in an effort to woo workers at understaffed stores. Meanwhile, Amazon has faced emboldened pushes for unionization given the stronger bargaining position of labor at the moment.
In short, a sudden influx of workers competing for jobs could serve as another tailwind for the broader retail sector both in terms of those seeking to hire and those struggling with wage inflation.
Grains of Bath Salts
While the commentary on share donation and staffing help are compelling, there remains a modicum of skepticism on the narrative.
Namely, questions remain as to how much market share the retailer has left to donate given the position it finds itself in. Additionally, the company reported only 32K employees in its 2021 annual filing. Presumably, amid significant restructuring and moves to stabilize the company, that figure is far lower at present.
Further, The New York Times reported recently that many retailers are considering or have already authorized layoffs to tighten their belts at present rather than welcoming a hiring spree. Stitch Fix (SFIX), which cut 20% of its salaried workers and Saks 5th Avenue, which reduced headcount by hundreds, were cited as key examples. Amazon's (AMZN) layoffs also targeted, along with human resources and other white collar roles, its retail operations as well.
Finally, liquidation will also likely impact pricing in the retail industry. As liquidation promotions are potentially forwarded by Bed Bath & Beyond, an industry already dealing with margin and inventory issues would be dealt another headache.
Read more on Bed Bath & Beyond's reported asset sale struggles.