Samsung says 2023 chip spending will be 'similar' to 2022, pressures sector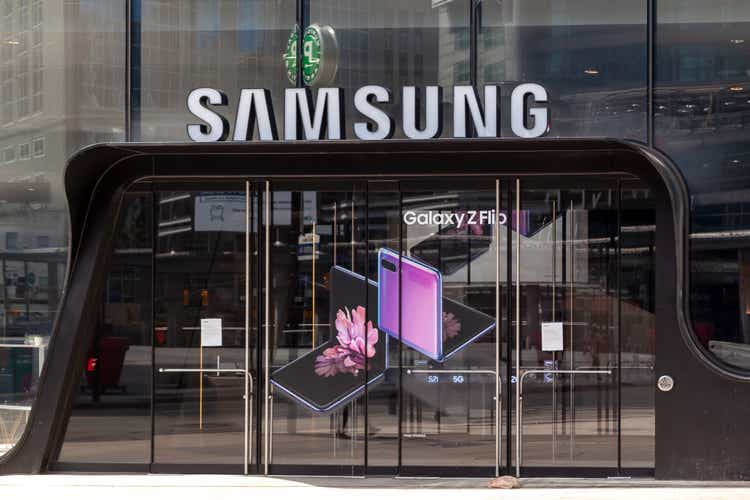 Samsung (OTCPK:SSNLF) said on Tuesday that it would not drastically cut capital spending on semiconductors this year, a stark difference to its competitors, despite the continued weakness in the global economy.
The South Korean technology giant, which reported fourth-quarter results on Tuesday, said it would lower short-term production via line maintenance, equipment adjustment and continuing to produce more advanced chips, Reuters reported.
In contrast, Micron (MU) and SK Hynix, both of which compete with Samsung (OTCPK:SSNLF) in the memory chip market, said they would lower spending plans for 2023. In November, Micron (MU) said it would reduce wafer starts for both NAND and dynamics random access memory, or DRAM, by roughly 20%, compared to the fourth quarter of 2022.
In addition, Micron (MU) explained it is looking for additional spending cuts, as it now expects year-over-year bit supply growth to be negative for DRAM and just single-digit percentage for NAND.
Samsung's (OTCPK:SSNLF) largest competitor in the foundry business, Taiwan Semiconductor (TSM), also recently said it would cut spending plans for 2023.
Samsung (OTCPK:SSNLF), which is also slated to unveil its newest Galaxy S smartphones this week, said its fourth-quarter operating profit came in at KRW 4.3T, or $3.49B. Revenue declined 8% year-over-year to KRW 70.46T.
Micron (MU) shares fell nearly 4.5% in premarket trading on Tuesday following Samsung's (OTCPK:SSNLF) results, while Taiwan Semiconductor (TSM) dipped 2.6%.
Also moving lower in premarket trading were industry stalwarts Intel (INTC), Qualcomm (QCOM), Broadcom (AVGO), Nvidia (NVDA) and AMD (AMD).
AMD (AMD) is slated to report fourth-quarter results after the close of trading.
Earlier this month, research firm Gartner said semiconductor revenue grew just 1.1% year-over-year, with Samsung (OTCPK:SSNLF) accounting for 10.9% of the market.