Pfizer stock dips on Q4 revenue miss, FY23 outlook sees COVID products decline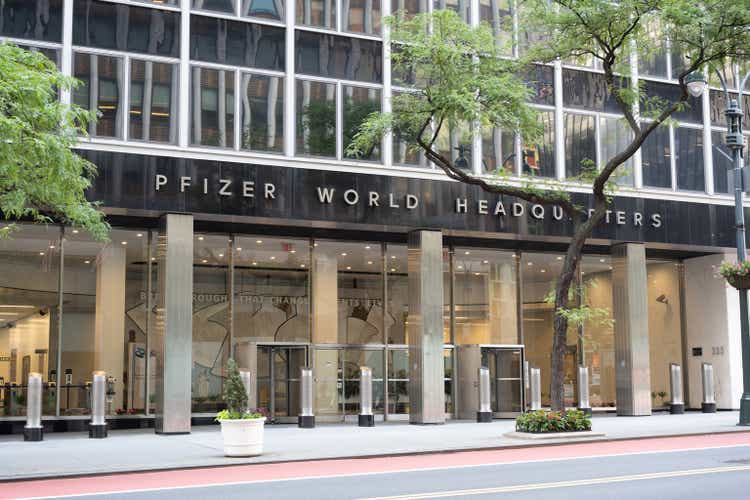 Pfizer (NYSE:PFE) is trading lower premarket on Tuesday after mixed Q4 results and a full year 2023 outlook which is seen lower than expected.
Q4 Adjusted EPS grew +44% Y/Y to $1.14, beating estimates while revenue increased +2% to $24.29B but missed analysts expectations.
COVID vaccine, developed with partner BioNTech (NASDAQ:BNTX), Comirnaty direct sales and alliance revenues declined -9% Y/Y to ~$11.33B. For full year 2022 Comirnaty sales were ~$37.81B, up +3% versus 2021.
Pfizer expects Comirnaty revenues in 2023 of ~$13.5B, down 64% from actual 2022 results. The company expects total demand for Comirnaty doses to be about 65M, compared to 92M doses in 2022.
Q4 revenue for COVID drug Paxlovid was ~$1.83B, compared to $76M in Q4 2021. For full year 2022 Paxlovid generated $18.93B.
The company expects 2023 Paxlovid revenues of about $8B down 58% from actual 2022 results. Pfizer expects total demand for Paxlovid - global, excluding China, to be 17M courses, compared to 12M courses in 2022.
Primary Care business sales grew +7% Y/Y to $17.35B.
Blood clot prevention therapy Eliquis alliance revenues and direct sales fell -1% Y/Y to $1.48B.
Prevnar franchise revenue grew +33% Y/Y to $1.74B. Premarin family revenue fell -11% to $128M.
Specialty Care business sales declined -11% to $3.57B. Transthyretin amyloidosis treatment Vyndaqel franchise sales increased +21% Y/Y to $680M. Meanwhile, Rheumatoid arthritis therapy Xeljanz sales fell 32% Y/Y to $493M.
Oncology segment revenue declined -7% Y/Y to $3.01B. Breast cancer therapy Ibrance sales declined -8% Y/Y to ~$1.28B. Prostate cancer treatment, Xtandi alliance revenues grew 5% Y/Y to $320M.
Pfizer CentreOne segment revenue fell -4% Y/Y to $368M.
Outlook:
Pfizer expects full year 2023 revenue to be between $67B and $71B (consensus $74.23B), and Adjusted EPS range of $3.25 to $3.45 (consensus $4.38).
Pfizer said its revenues are expected to be lower in 2023 than in 2022 entirely due to expected revenue declines for its COVID-19 products.
The company noted that excluding COVID-19 products, it continues to expect 7% to 9% operational revenue growth in 2023.
PFE -2.46% to $42.48 premarket Jan. 31