Hot Stocks: Homebuilders rally on PHM earnings; VC hits 52-week high; AI surges; WWD falls
Jan. 31, 2023 5:45 PM ET
PulteGroup, Inc. (PHM)
TOL, MGA, BWA, NVR, DHI, LEN, VC, BZH, AXL, DAN, WWD, AI
By:

Brian Stewart,

SA News Editor
2 Comments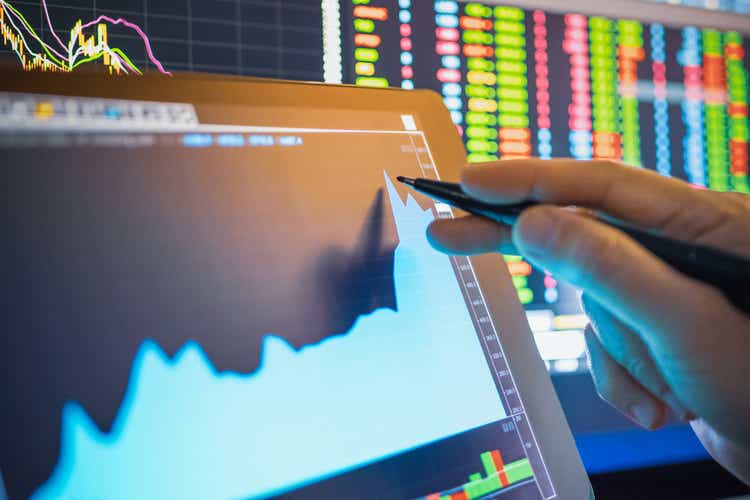 As investors set positions ahead of the Federal Reserve's next interest rate decision, stocks pushed higher on Tuesday. The S&P 500 climbed 1.5%.
Strong earnings from GM helped boost the overall market. The results also gave a lift to auto suppliers, sending Visteon (VC) to a new 52-week high.
Earnings news also inspired buying in the homebuilding sector. PulteGroup (NYSE:PHM) soared in the wake of its quarterly report, which also gave strength to peers like Lennar (LEN), Beazer Homes USA (BZH), Toll Brothers (TOL), NVR, Inc. (NVR) and D.R. Horton (DHI).
Another standout performance came from C3.ai (AI), which expanded its value by more than a fifth after revealing a new AI product offering. On the other side of the spectrum, Woodward (WWD) lost ground following its quarterly report.
Sector In Focus
Street-beating earnings from PulteGroup (PHM) helped drive an overall rally in the homebuilding sector. The company reported a Q4 profit that exceeded projections by more than 20%. Meanwhile, revenue surged 20% to reach $5.1B, topping analysts' consensus by $510M.
On the news, PHM soared more than 9% during the session, reaching a new 52-week high. This fueled gains among other homebuilding stocks, including Lennar (LEN), which rose more than 3% and also touched a new intraday 52-week high.
Meanwhile, Beazer Homes USA (BZH), Toll Brothers (TOL) and NVR, Inc. (NVR) each rose about 5%. At the same time, D.R. Horton (DHI) advanced by around 4%.
Standout Gainer
C3.ai (AI) surged on news that the company was adding a new artificial intelligence-focused product suite, which can integrate with other systems, including the high-profile ChatGPT offering from OpenAI. Hope surrounding the prospects for the product sent the stock higher by 22%.
The company unveiled the C3 Generative AI Product Suite, which it touts as "combining the full potential of natural language, generative pre-trained transformers, enterprise AI, and predictive analytics will change everything about enterprise computing."
Bolstered by the news, AI climbed $3.55 to reach $19.85. This added to a recent upswing, with the stock now up 79% over the past month.
With Tuesday's advance, shares reached their highest close since August, as the stock has rallied off a 52-week low of $10.16 reached in late December. The stock remains lower by about 25% over the past year.
Standout Decliner
The release of a disappointing earnings figures sparked selling in Woodward (WWD). Shares slipped 6% on the news.
The company posted a Q1 non-GAAP profit of $0.56 per share. This was $0.06 per share below the amount projected by analysts. Revenue rose 14% to $619M, topping estimates.
Looking ahead, the provider of control solutions for the aerospace and industrial markets predicted 2023 sales of $2.60B-$2.75B, compared to analysts' consensus of $2.64B.
At one point, WWD fell almost 11% from Monday's close. Shares recovered late in the day and eventually finished at $102.26. This still represented a retreat of $7.07.
The slide reversed some of the gains posted ahead of the earnings report, with the stock returning to levels last seen in the first half of January. Last week, WWD hit its highest finish since late April.
Notable New High
The announcement of better-than-expected results from GM created a halo effect for stocks related to the supply of automakers, as investors expressed optimism for the sector as a whole. Riding this wave, Visteon (VC) climbed 4% to reach a new 52-week high.
Shares of the automotive electronics supplier climbed $5.96 to close at $156.34. During the day, the stock reached an intraday 52-week high of $156.38.
Overall, VC has climbed about 18% over the past month and more than 50% over the past year.
Elsewhere in the sector, Dana Incorporated (DAN) and American Axle (AXL) both rose more than 5%, while BorgWarner (BWA) and Magna International (MGA) climbed about 2%.
For more of the day's biggest winners and losers, head over to Seeking Alpha's On The Move section.