Federal Reserve boosts policy rate by 25 basis points, signals more hikes ahead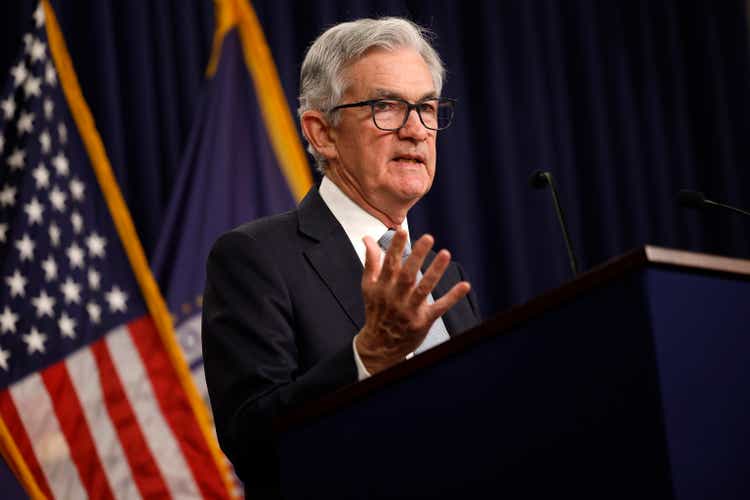 As expected, the Federal Reserve hiked its policy rate by 25 basis points to 4.50%-4.75%, slowing the rapid tightening campaign that ratcheted up its rate by 425 bps in 10 months.
It repeated its stance that ongoing increases in the target range will be appropriate in order to attain a stance of monetary policy that is sufficiently restrictive to return inflation to 2 percent over time, in an effort to convince financial markets that the Fed is intent on keeping rates high to bring down inflation.
The rate hike represents a reversion to what had been the central bank's usual increment of adjustment. Last year, stubbornly high inflation forced the policymakers to implement four straight meetings of 75-bp hikes. By raising rates, the Fed is aiming to reduce demand to bring it into better balance with supply.
"If inflation remains elevated, the terminal rates could end up going higher than current projections of 5.1%," said Seeking Alpha contributor Ahan Vashi. "The rate hike cycle is not done just yet, and with the Fed still pulling liquidity out of the markets, investors would be wise to remain vigilant."
The 10-year Treasury yield sits at 3.48%, a hair higher than the 3.47% before the announcement. The Nasdaq has broken into positive territory, and the S&P 500 has pared its loss to -0.2%. The Dow is off 0.7%.
At the same time, the Federal Open Market Committee reaffirmed its longer-run goals and monetary policy strategy, a message to markets that it's not considering adjusting its inflation goal higher.
All voting members of the Federal Open Market Committee voted for the policy decision.
"Those hoping for a change to the 'ongoing increases' phrase are disappointed as the Fed is not ready yet to signal an imminent end to the hiking cycle," said Mohamed El-Erian, adviser to Allianz and president of Queens College, Cambridge University, via tweet.
In discussing the economic backdrop, the FOMC noted "modest growth in spending and production" and that "inflation has eased," but remains "elevated."
Overall, there was less language about crises facing the economy and it seems less pessimistic about the effect of Russia's war in the Ukraine on the U.S. economy, said University of Michigan economist Justin Wolfers via tweet.
Fed Chair Jerome Powell will hold his usual post-meeting press conference at 2:30 PM ET.
Earlier, U.S. job openings unexpectedly rose in December as the quits rate held steady.