Federal Reserve has more 'work to do', warns against complacency: Powell press conference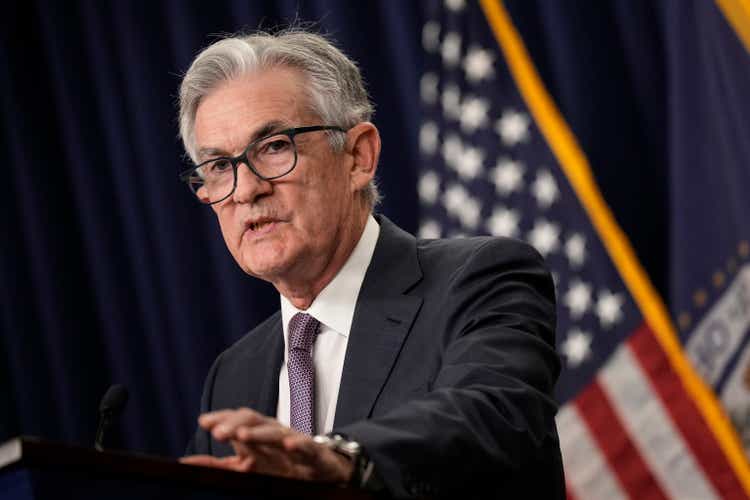 "We have more work to do" to bring down inflation after the central bank raised its rate by 25 basis points to 4.50%-4.75% Federal Reserve Chair Jerome Powell said in his post-monetary policy decision press conference.
That's emphasizing to financial markets that the central bank isn't planning on backing down from its policy tightening yet.
Labor market is still extremely tight, with job gains being robust. "Although the pace of jobs growth has slowed", the labor market is still "out of balance," he said.
"The attention of a data-dependent Fed will very much focus on disinflation in non-housing services, which are heavily affected by the labor market slack," said Yimin Xu on behalf of SA contributor Cestrian Capital Research. "This means we most likely need to see a notable increase in unemployment and a further slowdown in wage growth before the Fed becomes completely comfortable. In the March FOMC, there is no guarantee that the Fed would revise their dot plot downward."
3:15 PM ET: Press conference concludes. At 3:20 PM ET, all three major U.S. stock averages are in the green. The Dow +0.1%, Nasdaq +2.0%, and the S&P 500 +1.1%. The 10-year Treasury yield has declined to 3.41% compared with 3.47% before the monetary policy decision.
3:14 PM ET: "It's important that markets do reflect the tightening" that the Fed has implemented.
3:12 PM ET: He said he agreed with Fed Vice Chair Lael Brainard's view that no wage-price spiral has materialized. Inflation expectations are well-anchored, "especially at the shorter end."
3:10 PM ET: COVID "as an ongoing, economic risk" is no longer necessary in the Fed's monetary policy statement, Powell said. The economy and people are dealing with the virus better, he said.
3:08 PM ET: "I don't see cutting rates this year." Powell said he's "not particularly concerned about the divergence" between the Fed's guidance and financial markets that are only expecting one more rate hike before a pause.
3:06 PM ET: "Certainty is just not appropriate here... we're going to be cautious about declaring victory... we're in the early stages of disinflation."
3:02 PM ET: He expects positive growth for this year, but at a subdued pace, pointing out that the global economic picture has improved.
2:59 PM ET: There's still a path to a "soft landing." "My base case is that the economy can return to 2% inflation without a substantial downturn," he said.
2:59 PM ET: He doesn't expect that core services, ex-housing, inflation will come down significantly without a better balance in the labor market.
2:55 PM ET: When asked about the Federal debt ceiling, Powell said the only way forward is for Congress to raise the debt level. "Don't assume" the Fed can protect the economy from a debt default, he added.
2:51 PM: "We've raised the rate by 450 basis points" and we're talking about a couple more rate hikes before a pause, Powell said. It's his assessment that the Fed isn't very far from the restrictive level.
2:47 PM ET: Nasdaq has risen 1.2%, S&P 500 +0.5%, Dow pares loss, -0.2%.
2:46 PM ET: "It would be very premature to declare victory," he said. "The disinflation process has started, especially in goods."
The policymakers have "no desire" to over-tighten. And they can adjust policy if they find that they did over-tighten.
2:44 PM ET: There's "still work to do" in tightening financial conditions. If data warrants, the FOMC would be willing to move rates higher than its previous projections. At the December meeting, the median projection was for ~5.1% federal funds rate.
2:43 PM ET: Disinflation still hasn't affected core services costs, excluding housing, he said.
Update at 2:41 PM ET: "It's gratifying to see the disinflationary process now underway," Powell said. So far, he's seeing progress in bringing down inflation without weakening of labor conditions.
Total PCE prices have risen 5.0% in the past 12 months, and core PCE prices have increased 4.4% in the same period, both well above the Fed's 2.0% inflation goal.
He said now is not the time for complacency. "Although inflation has moderated recently, it still remains too high."
The higher rates mean the economy is likely to result in economic growth below the long-run growth trend and softening of labor market.
"We will stay the course until the job is done," Powell said.
Earlier, Federal Reserve boosted its policy rate by 25 basis points, signals more hikes ahead