Qualcomm earnings to show effects of smartphone sales slowdown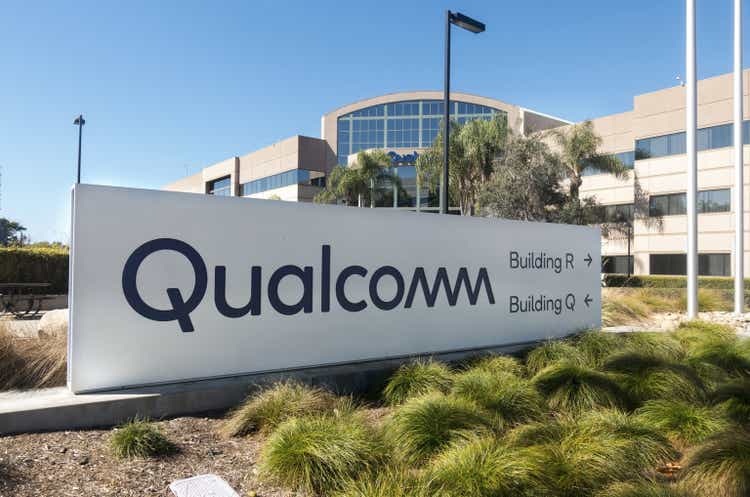 Qualcomm (NASDAQ:QCOM) is scheduled to deliver its fiscal first-quarter results after Thursday's market close, and the communications chipmaker's report comes amidst a mixed bag of business updates for some of the top semiconductor companies.
Wall Street analysts currently expect Qualcomm (QCOM) to say it earned $2.35 a share, excluding one-time items, on $9.57B in revenue, for the quarter that ended in December. For its part, Qualcomm (QCOM) has said it estimates it will earn between $2.25 and $2.45 a share, on revenue in a range of $9.2B to $10B.
During the year-ago period, Qualcomm (QCOM) earned $2.98 a share, excluding one-time items, on $10.7B in revenue.
Among the issues that analysts and investors will key in on will be what Qualcomm (QCOM) says about the state of the smartphone market. Smartphone shipments are expected to have seen a big decline during the final three months of 2022, and Qualcomm (QCOM) might see its sales impacted by the shortfall in smartphone sales.
Qualcomm (QCOM) has said that it is cutting back on shipments to one of its biggest customers, Apple (AAPL), as it diversifies into automotive systems and other business areas. Cowen analyst Matthew Ramsay said in a research report that he believes Qualcomm (QCOM) at its recent analyst day "proactively removed a significant amount of Apple modem overhang" and thus has set a "conservative floor" for its upcoming results.
Seeking Alpha contributor Stone Fox Capital said in a recent assessment of Qualcomm (QCOM) that its investors "should no longer fear [the company] losing the Apple business."
Wall Street analysts and Seeking Alpha authors both currently have consensus buy ratings on Qualcomm's (QCOM) stock. Seeking Alpha's Quant System, which historically outperforms the stock market, is more conservative and gives Qualcomm's (QCOM) stock a rating of hold.