Starbucks falls after weakness in China leads to comparable sales miss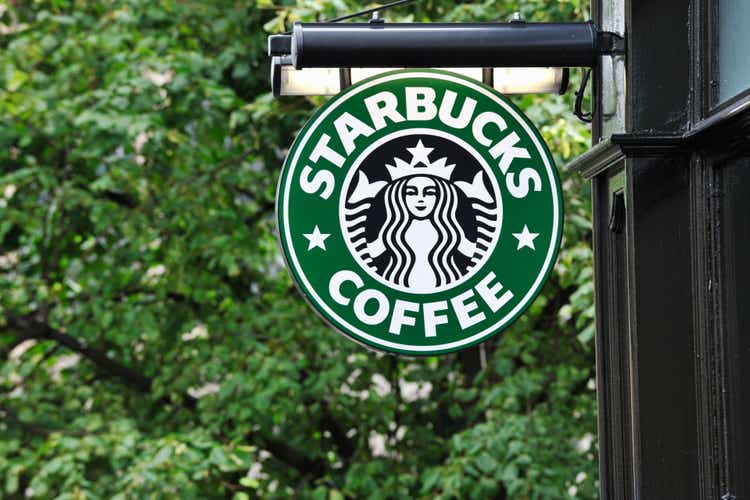 Starbucks Corporation (NASDAQ:SBUX) reported global comparable store sales rose 5% during FQ1 to fall short of the consensus estimate of +6.9%. Average ticket was up 7% to offset a 2% decline in transactions during the quarter.
Total revenue was up 8.2% to a record $8.7B.
Comparable sales in North America increased 10% vs. +7.6% consensus, driven by an 9% increase in average ticket. Comparable transactions were up 1% in the region. Operating margin fell to 18.5% of sales in the region from 18.9% a year ago with labor and input costs higher.
International comparable sales fell 13% during the quarter. China comparable store sales dropped 28% vs. a consensus estimate of -13%, driven lower by a 28% decline in transactions with COVID restrictions holding back traffic in key cities.
Active membership in Starbucks Rewards in the U.S. rose 15% to 30.4M during the quarter.
The company's consolidated non-GAAP operating margin fell 20 basis points to 14.4% of sales.
Starbucks (SBUX) opened 459 net new stores during the quarter. The coffee chain ended the period with a record 36,170 stores globally.
CEO Howard Schultz: ""We posted today's strong results despite challenging global consumer and inflationary environments, a soft quarter for retail overall and the unprecedented, COVID-related headwinds that unfolded in China in Q1."
Starbucks (SBUX) has a conference call scheduled for 5:00 p.m. ET during which execs are likely to discuss the most recent trends in China following the easing of COVID restrictions.
Shares of Starbucks rose 3.35% AH to $105.72 following a 0.76% dip during the regular session.
Read the latest breakdowns on Starbucks from Seeking Alpha contributors.