Can Pinterest Q4 results bring positive surprise after Meta gained and Snap disappointed?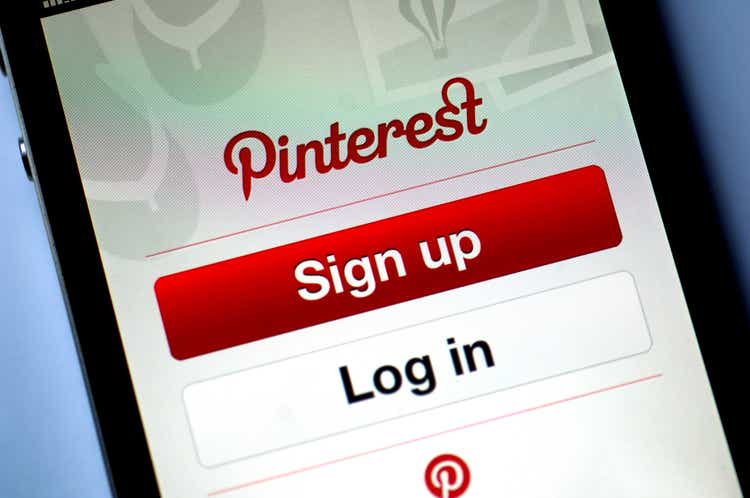 Pinterest (NYSE:PINS) is scheduled to announce Q4 earnings results on Monday, February 6th, after market close.
The consensus EPS Estimate is $0.28 (-42.9% Y/Y) and the consensus Revenue Estimate is $886.78M (+4.7% Y/Y).
Over the last 2 years, PINS has beaten EPS estimates 88% of the time and has beaten revenue estimates 88% of the time.
Over the last 3 months, EPS estimates have seen 9 upward revisions and 9 downward. Revenue estimates have seen 5 upward revisions and 5 downward.
The company's stock rose +13.75% on Oct. 28, after Q3 results beat analysts estimates which were announced post market the day before. Revenues rose 8% to $685M and global monthly active users were flat Y/Y to 445M.
On Thursday (Feb. 2), Pinterest stock surged +8.99% after strong results from online advertising competitor Meta Platforms and announcing layoffs of roughly 5% of the company. Meta's stock had surged Thursday following its Q4 results a day a before, wherein revenue beat estimates, and a $40B share buyback program.

However, Snap's stock was not so lucky and fell (Feb. 1 -10.29%) after Q4 revenue missed estimates and the company issued weak guidance on Jan. 31 post-market. UBS Analyst Lloyd Walmsley had noted that Snap's poor results and outlook did not bode well for the online ad space, especially Pinterest.
In January, MKM Partners downgraded Pinterest's shares to Neutral from Buy, in large part due to cautious comments about online advertising.
However, Piper Sandler was positive on the social media company. In December 2022, Piper Sandler upgraded Pinterest, citing "multiple tailwinds" going into 2023, independent of the advertising market.
In the same month, Goldman Sachs had listed Pinterest (PINS) as one of the companies best positioned to benefit from the blurring lines between traditional advertising and e-commerce.
Pinterest also entered a long-term cooperation deal with Elliott Investment Management, under which the fund manager agreed to standstill, voting, confidentiality and other commitments.