Nearly two-thirds of U.S. consumers live paycheck-to-paycheck, survey says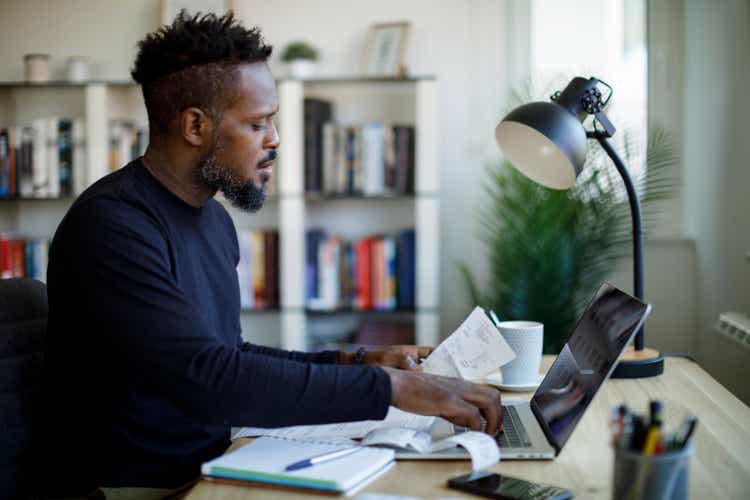 The majority of Americans have seen their budgets squeezed last year as persistent inflation reduced purchasing power at a time when the Federal Reserve jacked up borrowing costs and pandemic-era fiscal stimulus was largely exhausted.
At the end of 2022, some 64% of U.S. consumers (166M people) were living paycheck-to-paycheck, up from 61% in the year-ago period, according to a recent study by digital marketplace bank LendingClub (NYSE:LC) and industry publication Pymnts.com that surveyed nearly 4,000 people between Dec. 8 and Dec. 23, 2022.
That means 9.3M more consumers are living paycheck-to-paycheck. What's even more alarming, 86% of them earned more than $100K annually, underscoring the heightened scale of the surge in the cost of living. Over half (51%) of that income cohort reported living paycheck-to-paycheck in December 2022, compared with 42% a year before.
While consumers' purchasing power has improved in recent months with headline inflation easing, disposable income growth was still trending below that of consumer prices at year-end, as seen in the FRED chart below.
Anuj Nayar, LendingClub's (LC) financial health officer, pointed out that "while the number of Americans living paycheck-to-paycheck is close to the height we saw in the middle of the pandemic, the causes appear to be very different, as the economy is not sheltering in place like it was back in 2020."
Looking ahead, a minority of survey respondents expect to see an improvement in their personal finances in 2023, but remain concerned about inflation, the survey showed. As such, 40% of paycheck-to-paycheck consumers see their personal finances improving in the next year, versus 33% in July 2022. Those not living paycheck-to-paycheck are most worried about economic uncertainty (i.e., how much higher will interest rates get and will the Fed's tightening cycle slide the U.S. economy into a recession?).
The Fed has been ratcheting up its benchmark rate since March 2022, but it has implemented increasingly smaller rate hikes in the two previous meetings. It most recently lifted rates by 25 basis points, shifting down from the 50-bp hike in the December gathering following four straight 75-bp increases. Despite the smaller rate increases, the Fed still signaled a "higher for longer" monetary-policy stance due to a still-tight labor market and other lingering inflationary pressures.
In another sign of consumers' bleak economic prospects, the latest University of Michigan survey indicated that consumer sentiment, albeit rising from 2022 lows, stayed well below pre-pandemic levels. Some two-thirds of consumers anticipated an economic downturn during the next year.
"If the consumer perception that their incomes will improve this year is proven true, it will hamper the effects of the Fed to curb inflationary pressures," Nayar added. "We can expect more and more Americans of all incomes identifying themselves as living paycheck-to-paycheck until we see the economy recover. Now more than ever, it is crucial for consumers to examine spending and build a cushion of savings to prepare for the unexpected."
Previously, (Feb. 3) the U.S. unemployment rate hit the lowest mark since 1969 in January as the economy added 517K jobs, way more than expected.