Pre-event M&A has busy week in store with several earnings scheduled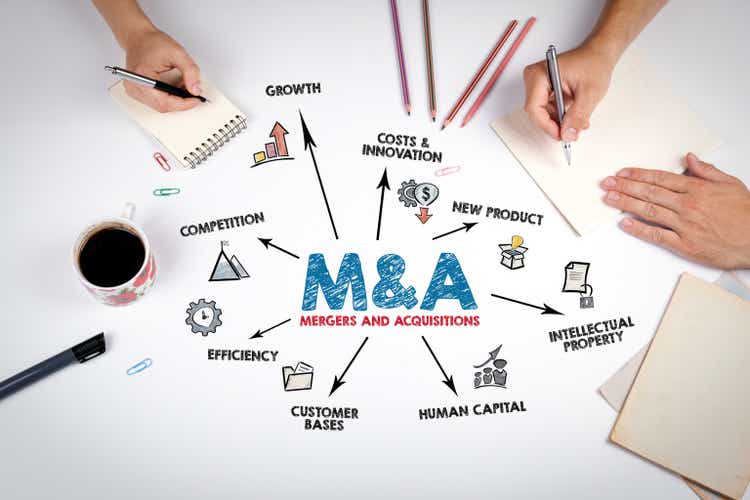 Pre-event mergers & acquisition investors will have a busy week on tap with several companies scheduled to report their results.
New Relic (NYSE:NEWR) is expected to report Q3 results and host a conference call on Tuesday. The company in June revamped its board as part of cooperation agreement with activist Jana Partners. In July, Reuters reported that the software company was preparing to explore a sale. RBC analyst Rishi Jaluria last year identified New Relic as a likely target for a strategic buyer and analysts in July said the company may see $60-$80 a share in a potential takeout.
Qiagen (NYSE:QGEN), often reported as a takeover target especially after Thermo Fisher walked away from its proposed acquisition in 2020, is scheduled to report its Q4 results on Tuesday with a conference call on Wednesday. Most recently, Bloomberg reported late last month that Qiagen was evaluating selling a minority stake in its bioinformatics division, which may value the business at more than $1 billion.
The bioinformatics potential sale news comes after the WSJ reported in October that the diagnostics company Bio-Rad Laboratories (BIO) was in talks with competitor Qiagen to combine. Bloomberg reported in November 2021 that Qiagen (QGEN) attracted buyout interest from French diagnostics company bioMérieux.
Investors are likely keenly watching for Emerson Corp.'s (EMR) results on Wednesday, as the company is in the midst of a $7 billion takeover offer for electronic equipment maker National Instruments (NASDAQ:NATI). Although Emerson (EMR) at first said it planned to nominate directors for NATI's board, it has since said it won't and will participate in Emerson's strategic review process.
Fortive (FTV), Keysight (KEYS) and Honeywell (HON) are said also to be interested in a National Instruments (NATI) takeover, according to a Dealreporter item from last month.
Also on tap for earnings this week is CVS Health (CVS), which is reportedly exploring an acquisition of Oak Street Health (OSH), and is scheduled to report Q4 results on Wednesday. CVS is also said to have been in exclusive talks to acquire Cano Health (CANO) in October, though CVS reportedly walked away from the discussions.
While Bloomberg initially reported the CVS's (CVS) interest in a $10 billion purchase of primary care operator Oak Street (OSH) last month, sending the shares soaring 27% on Jan. 10, the shares retreated a bit on Jan. 17 when an Axios report said that an acquisition by CVS was unlikely.
CVS Health (CVS) CEO Karen Lynch last month said the company will continue to look for additional assets, including primary care capabilities.
Primary care "is an asset we believe that we want in our portfolio," Lynch said at the J.P. Morgan Healthcare Conference last month.
On the special situations front, Spectrum Brands (NYSE:SPB) is expected to provide a status update to the court Monday regarding its negotiations with the U.S. Dept of Justice on the planned sale of its door hardware unit to Assa Abloy AB (OTCPK:ASAZF). The DOJ sued to block the Swedish company from acquiring the unit from Spectrum Brands back in September.
Spectrum Brands' shares soared 27% on Dec. 2 after Assa announced an agreement to sell some assets to Fortune Brands Home & Security (FBIN) for $800M to try to remedy the DOJ's concerns. Spectrum (SPB) is also scheduled to report Q1 results on Friday.