Riot Platforms generates 12% more bitcoins M/M in January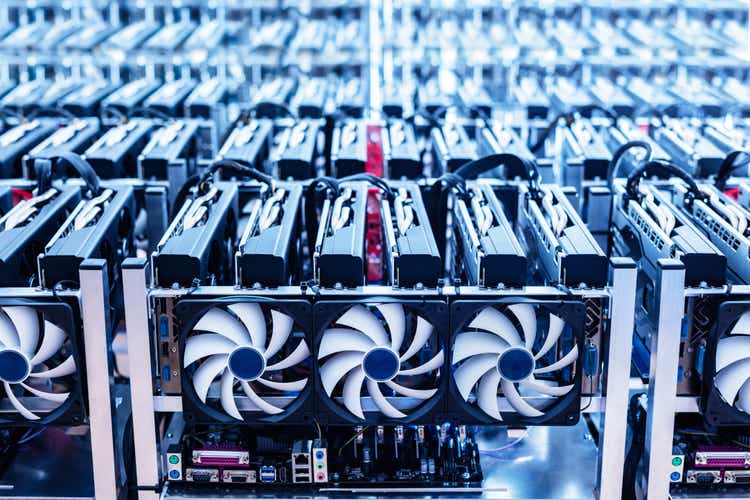 Riot Platforms (NASDAQ:RIOT) produced 740 bitcoins (BTC-USD) in January, up 12.3% from December 2022 and 62% higher from the year-ago period, it said Monday.
Still, the company, formerly known as Riot Blockchain, experienced a reduction in its deployed mining fleet and hash rate capacity driven by recent damage to Buildings F and G of its Texas-based Rockdale facility from severe winter weather.
"Repairs have been ongoing in both buildings," said Riot CEO Jason Les, "and we have successfully brought Building F back online, representing 0.6 EH/s of impacted hash rate capacity."
As a result of the damage, RIOT's previously announced hash rate goal of 12.5 exahashes per second for Q1 2023 is now expected to be delayed.
It expects to have a total of 83,808 miners deployed (which excludes 17,040 miners currently offline in Building G) with a hash rate capacity of approximately 9.4 EH/s. That's down from the 9.9 EH/s estimated in the prior month.
As of Jan. 31, RIOT had a deployed fleet of 82,656 miners, with a hash rate capacity of 9.3 EH/s. It held ~6,978 of self-mined BTC.
The miner also sold 700 bitcoins (BTC-USD) during the month, generating net proceeds of around $13.7M.
RIOT dipped 2.1% in morning trading, coinciding with bitcoin's (BTC-USD) 1.5% slump to $22.82K.
Last week, (Feb. 1) Riot Platforms' chief commercial officer departed.