BellRing Brands stock gains on earnings beat, boosted outlook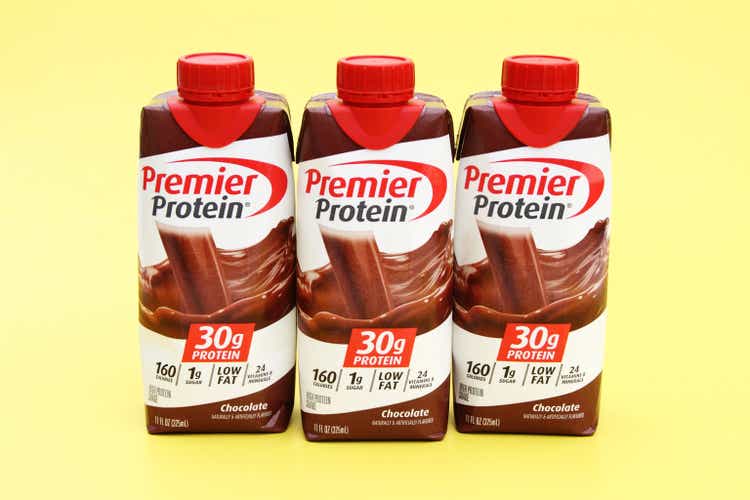 BellRing Brands (NYSE:BRBR) shares shot up nearly 5% in Monday's extended trading after the company exceeded fiscal first quarter expectations and hiked full-year forecasts.
For the first quarter, the company notched $0.33 in earnings per share, $0.05 above the bar set by Wall Street. Meanwhile, an 18.3% jump in revenue from the prior year quarter to $362.7M came in $19.72M above expectations. A 15.4% increase in prices was credited for sustaining the performance in the quarter.
"Our shake production came in slightly higher than we forecasted, improving both internal and customer trade inventory levels and driving Premier Protein volumes back to growth. Premier Protein and Dymatize saw healthy retail consumption growth in the quarter, which has continued into January," CEO Darcy H. Davenport said. "The convenient nutrition category continues to show momentum. Our new capacity expansions remain on track. Our brands are resonating with consumers and our first quarter results give us greater confidence in our full year outlook and long-term prospects."
For the full-year, management expects net sales to range between $1.56B and $1.64B, essentially in-line with the $1.59B Street consensus. The adjusted EBITDA outlook was raised to a guidance range between $306M and $325M for the full year, up from a prior $300M to $325M forecast.
Elsewhere, Post Holdings (POST) completed its exit from an ownership stake in the company.
Shares of BellRing Brands (BRBR) gained 4.35% in after hours trading on Monday.
Dig into the details of the report.