Carrier drops pre-market as Q4 earnings, sales slip from a year ago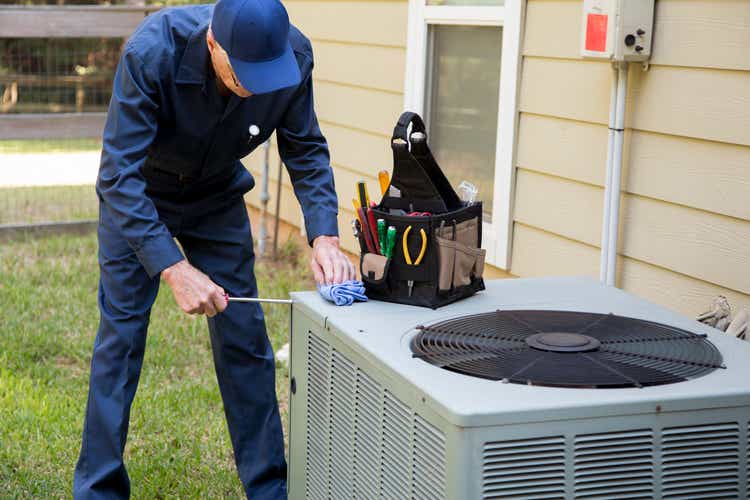 Carrier Global (NYSE:CARR) -2% pre-market Tuesday after reporting Q4 adjusted earnings and revenues that fell from a year ago but matched expectations, with FY 2023 guidance roughly in line with analyst estimates.
Q4 net income fell to $270M, or $0.32/share, from $324M, or $0.36/share, in the prior-year quarter, while sales slipped 0.5% Y/Y to $5.11B, as product sales rose 6.4% to $4.53B but service sales slid 34% to $578M.
Q4 sales in the HVAC segment jumped 21% Y/Y to $3.31B, Refrigeration revenues fell 13% to $943M, and Fire and Security sales slipped 33% to $960M.
Company-wide operating margin fell to 8.5% from 9% in the year-earlier quarter, as operating margin fell in HVAC to 7.3% from 8.3% while rising to 12% from 9.8% in Refrigeration, and edging down to 14.25 from 14.5% in Fire and Security.
Carrier (CARR) said it will target net zero greenhouse gas emissions across value chain by 2050, and plans to expand investments in support of its goal of carbon neutral operations, with a focus on renewable energy and high-quality carbon sequestration credits.
For FY 2023, the company expects adjusted EPS of $2.50-$2.60 and revenues of ~$22B, in line with analyst consensus for EPS of $2.56 and sales of $21.75B.
Carrier Global (CARR) shares have gained 11% so far this year but just 1% during the past year.