Microsoft, OpenAI set to start 'AI arms race' with new partnership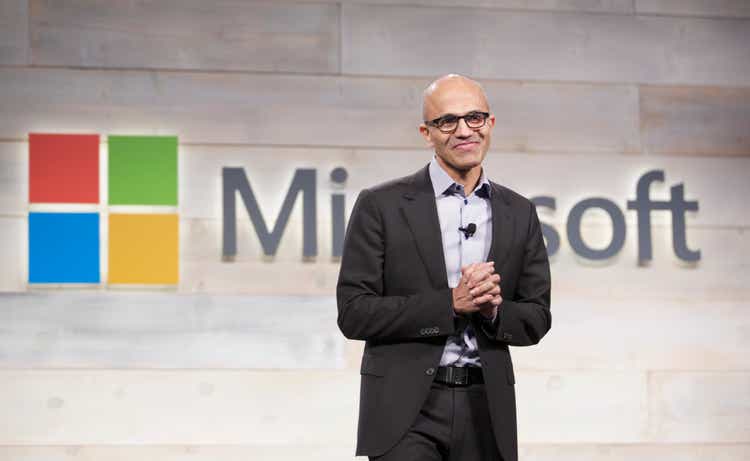 Microsoft (NASDAQ:MSFT) is slated to host a surprise event at its Redmond, Washington campus on Tuesday where the software giant is widely expected to talk more about its investment into ChatGPT maker OpenAI.
This partnership, which could be worth some $10B, is seen as a "game changer" for the Satya Nadella-led Microsoft (MSFT) and one that is likely to start an "arms race" in artificial intelligence, Wedbush Securities said.
Analyst Dan Ives, who has an outperform rating and a price target of $280 a share on Microsoft's (MSFT) stock, noted the company is "aggressively" going after the AI opportunity both in the cloud and in search.
"We view this as the first shot across the bow in this Big Tech AI battle that is set to hit its next gear of investments over the coming months with Microsoft now leading the race," Ives wrote.
Ives noted that Bing only has 9% of the market search for search engines, well below the roughly 90% that Google (NASDAQ:GOOG) (NASDAQ:GOOGL) has. And with Google (GOOG) (GOOGL) not resting on its laurels, having unveiled its chatbot, Bard, to the world yesterday, the time is now for Microsoft (MSFT) to strike.
Ives added that further integrating the ChatGPT tool and algorithms into the Microsoft search platform "could result in major share shifts away from Google and towards Redmond down the road." Ives added that the presence of OpenAI co-founder and CEO Sam Altman at the event "is a clear signal" that Microsoft (MSFT) is looking to win the battle.
Google (GOOG) (GOOGL) is also slated to host an AI-themed event this week, with the focus being on the technology's impact on search and maps.
Not to be outdone, Chinese technology giant Baidu (BIDU) confirmed on Tuesday that it would unveil its AI chatbot, Ernie, in March. Baidu (BIDU) shares skyrocketed 13% in premarket trading.
Ives also said he expects Microsoft (MSFT) will announce cloud services with Azure that integrate ChatGPT into its platform as it seeks to stave off competition from Google (GOOG) (GOOGL) and Amazon (AMZN) in the cloud.
Last month, Microsoft (MSFT) said it would integrate ChatGPT access via its Azure cloud "soon," but did not give a specific date.
On Monday, it was reported that Microsoft (MSFT) may receive opposition to its proposed deal for Activision Blizzard (ATVI) from the U.K.