Paycom Software posts Q4 earnings beat, above-consensus year outlook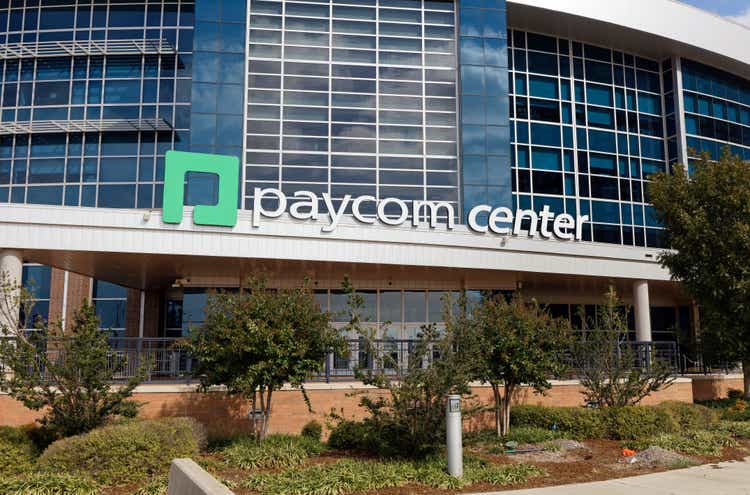 Paycom Software (NYSE:PAYC) on Tuesday turned in fourth-quarter earnings and revenue each topping average Wall Street estimates and climbing from a year ago, "reflecting strong demand for our user-friendly solutions and attractive client return on investment," said Founder, Chairman and CEO Chad Richison.
The company expects its revenue to be $1.700B-$1.702B for 2023, up from the $1.69B consensus estimate. Full-year adjusted EBITDA is expected to be $700M-$702M versus Visible Alpha consensus of $697.9M.
For the first quarter of 2023, revenue is anticipated to be $443M-$445M, compared with the $436.7M consensus. And it's calling for Q1 adjusted EBITDA of $210M-$212M vs. $210.6M Visible Alpha consensus.
Q4 adjusted EPS of $1.73, exceeding the $1.49 average analyst estimate, jumped from $1.11 in the year-ago quarter. Similarly, revenue of $370.61M, surpassing the $366.7M consensus, advanced from $284.99M a year earlier.
Operating expenses totaled $264.77M, up from $216.36M a year before.
Adjusted EBITDA of $163.94M accelerated from $109.57M in Q4 2021. Adjusted EBITDA margin of 44.2% vs. 38.4% in Q4 2021.
PAYC stock dipped 2.8% in after-hours trading.
Conference call at 5:00 p.m. ET.
Earlier, Paycom Non-GAAP EPS of $1.73 beats by $0.24, revenue of $370.6M beats by $3.89M.