Biden says in State of the Union economy is building 'from the bottom up'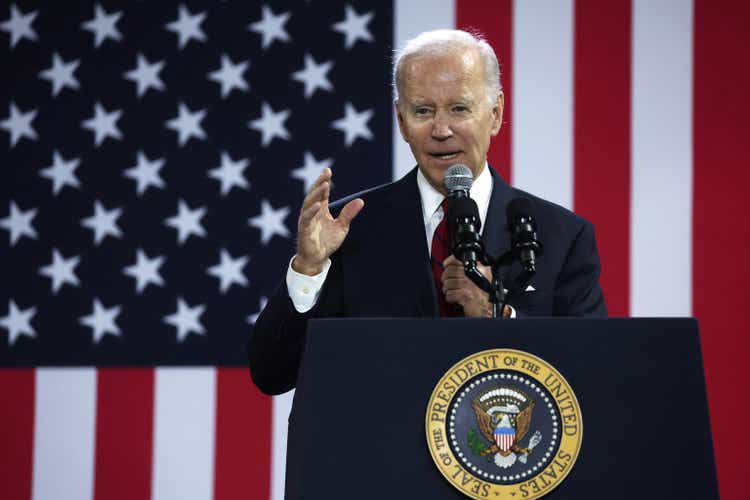 President Joe Biden used his State of the Union Address Tuesday night to tout what he said were the economic successes of his administration in an attempt to assuage concerns of a public that remains largely skeptical of his performance two years into his term.
Speaking before a joint session of Congress, Biden said that despite the ongoing spectre of inflation weighing on Americans' minds every time they go to the gas station or grocery store, the nation's economy is on the upswing and reiterated his mantra of wanting to "build an economy from the bottom up."
Biden acknowledged inflation as being "a global problem", but stressed that it is coming down, and as an example, said that it has fallen every month for the last six months.
"We're just getting started," Biden said about new legislation designed to support and improve U.S. manufacturing and infrastructure.
Biden's second State of the Union address came at what is turning out to be a critical juncture in his tenure. A new Washington Post-ABC News poll showed only 42% of Americans approving of Biden's job, and there have been reports that senior Democratic Party members want the president to not run for a second term in 2024 when he will be 82 years old.
The president has also been dealing with the blowback from a reported Chinese spy balloon that flew over U.S. airspace for a week before being shot down over the Atlantic Ocean last weekend. Without mentioning the spy balloon incident directly, Biden said, "If China threatens our sovereignty, we will act to protect our country. And we did."
During is speech, Biden hit on topics ranging from the climate crisis to legislation aimed at prohibiting businesses such as airlines and cable TV companies from tacking excessive "junk fees" on to the price of their services.
But, it was what he saw as efforts made to benefit American workers, and improve the economy that took up the lion's share of Biden's speech.
Biden said that under his watch, the U.S. is seeing "near-record unemployment," which the President said was "a 50-year-low of 3.4%." Biden added that more than 800,000 new manufacturing jobs had been created since he took office.
"Jobs are coming back," Biden said. "Pride is coming back."
The situation in the House chamber got a little heated at one point when Biden said some Republicans want to sunset Social Security and Medicare, and that if those federal program are cut, "they'll let America default on its debt for the first time in our history." Several Republicans booed the President in response.
Arkansas Gov. Sarah Huckabee Sanders delivered the Republican response to Biden's address, and said, among other things, that the President has refused to secure the nation's southern border and stand up to China.
"His administration has been completely hijacked by the radical left," Sanders said. "The choice is between normal and crazy."
Biden's speech came after what was a strong day on U.S. stock markets as the Dow Jones Industrials (DJI) (DIA), the S&P 500 (SP500) and the tech-heavy Nasdaq Composite Index (COMP.IND) all finished with gains. Crude oil prices (CL1:COM) also reached their highest level in a week, and the 10-year Treasury bond also rose on the day.
Tuesday's market activity was highlighted by comments from Federal Reserve Chief Jerome Powell about how "the disinflationary process has begun," but that the Fed may have to raise interest rates to get inflation back to acceptable levels.