O'Reilly Automotive's strong sales overshadow light profit guidance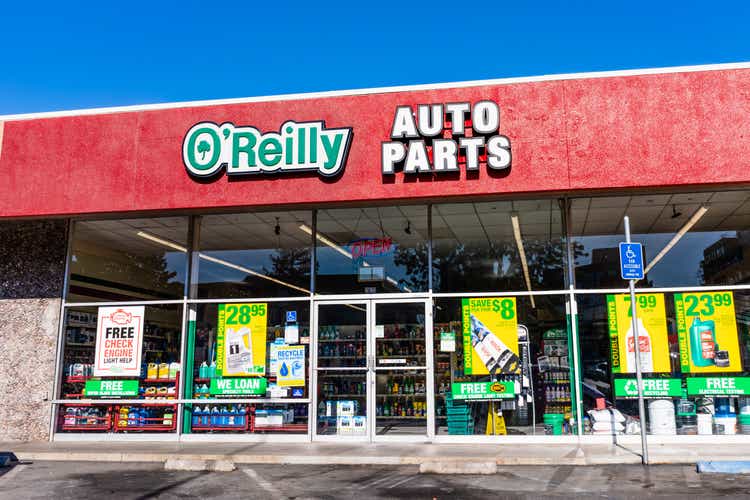 O'Reilly Automotive (NASDAQ:ORLY) stock edged higher on Thursday as a sizable beat on Q4 expectations offset worries about margin guidance.
For the fourth quarter, the auto parts retailer posted $8.37 in earnings per share, beating expectations by $0.61. Meanwhile, a 10.7% jump in revenue to $3.64B came in $140M above estimates. Comparable sales growth of 9% also more than doubled the 4.32% expectation.
"Team O'Reilly once again exceeded our expectations and delivered robust top-line growth on top of a record-breaking 14.5% comp in the prior year, which resulted in an incredible three-year comparable store sales stack of 34.7% for the fourth quarter," CEO Greg Johnson said. "As we look forward to 2023, we believe the long-term drivers for demand in our industry remain solid, and we remain very confident in our Team's ability to gain market share by providing unsurpassed levels of service to our customers and successfully executing our proven dual-market business model."
Moving forward, the company sees between $15.2B and $15.5B for the full-year with comparable sales between 4% and 6%, above the consensus estimates of $15.07B and 3.75%, respectively.
However, EPS and margin forecasts came up slightly short of analyst expectations. The company anticipates between $35.75 and $36.25 in earnings per share for 2023, below the $37.04 consensus. Operating margin expectations between 19.8% and 20.3%, is also below the 20.7% consensus estimate.
Shares of the Missouri-based auto parts retailer rose 3.01% in premarket trading on Thursday.
Read more on the details of the earnings result.