GSK kept quiet about cancer risks of heartburn drug Zantac for 40 years – Bloomberg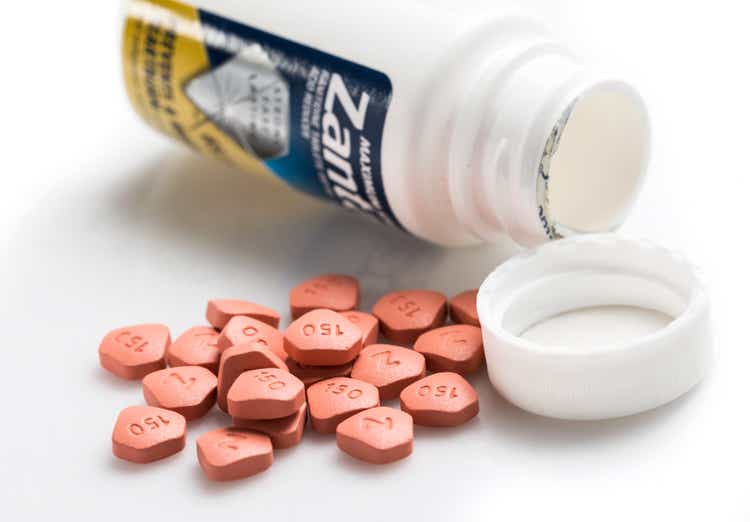 Update: Feb. 16, 11.30AM EST: Adds comments from GSK (NYSE:GSK)
GSK (GSK) American Depository Shares lost ~2% pre-market Wednesday after a new report from Bloomberg Businessweek claimed that the British drugmaker chose to keep quiet on the cancer risks of the recalled heartburn medication Zantac.
Zantac, also known as ranitidine, was pulled from the U.S. market in 2020 amid concerns over the unacceptable levels of potential human carcinogen, N-nitrosodimethylamine (NDMA).
Since then, the makers of Zantac generics, including Sanofi (SNY) (OTCPK:SNYNF), GSK (GSK), Pfizer (PFE), and Boehringer Ingelheim GmbH, have faced thousands of lawsuits for failure to adequately warn health risks of the antacid.
Citing court filings, studies, FDA transcripts, and new drug applications obtained through the Freedom of Information Act requests, Bloomberg said that the FDA considered the cancer risks when greenlighting the medication, but GSK (GSK) withheld key study data.
Even worse, the company, then known as GlaxoSmithKline (GSK), supported flawed studies to minimize the concerns and opted against using methods such as routine transport and storage that would have lessened the impact.
In one instance, ahead of pursuing approval for an injectable version of ranitidine, John Padfield, the head of pharmaceutical development of GSK (GSK), warned in 1982 that this version of the drug had to be kept chilled from importation to the warehouse storage.
Not doing so would be "a very dangerous thing," Padfield argued in March and the company executives wrote several months later that "refrigeration of the injection would not be acceptable to Glaxo marketing."
GSK (GSK) responded to the allegations, noting that "the safety of ranitidine has been thoroughly evaluated over the past 40 years."
Kathleen K. Quinn, the company's Head of U.S. Corporate Communications, said that multiple studies and regulatory reviews in the U.S. and EU indicated "no consistent or reliable evidence that ranitidine increases the risk of any form of cancer."
GSK (GSK), in a statement to Seeking Alpha, also pointed to a December court ruling in which a federal judge in Florida tossed 48,000 cases and claims alleging ranitidine led to cancer.
Seeking Alpha contributor Junius notes that GSK (GSK) investors have ignored the litigation risks related to Zantac "for too long."