Labcorp sees up to 90% decline in COVID testing revenue in 2023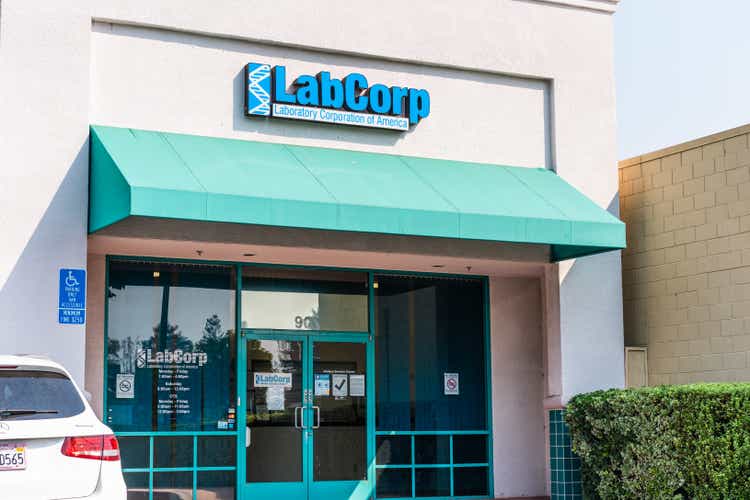 Labcorp (NYSE:LH) posted its fourth consecutive quarterly revenue decline on Thursday, estimating up to a 90% decline in its COVID testing revenue this year amid the waning pandemic impact.
However, the company's 2023 earnings guidance at $16.00 – $18.00 for adjusted earnings per share stood in line with the consensus estimates even after the 2022 adj. EPS dropped ~30% YoY to $19.94.
Meanwhile, quarterly revenue continued to drop, reaching $3.67B with a ~9% YoY decline as revenue from the company's Diagnostics segment contracted ~13% YoY to $2.29B, mainly driven by falling COVID-19 testing.
Net earnings for the quarter fell ~86% YoY as the operating margin reached ~3% from ~18% in the prior year.
Full-year revenue crashed ~8% YoY to $14.88B as revenue from the Diagnostics segment fell ~11% YoY to $9.2B amid a ~10% YoY decline in COVID-19 testing. Meanwhile, the Drug Development segment, which Labcorp (LH) expected to spin out in mid-2023, added ~$5.7B with a ~2% YoY decline.
The company's guidance assuming the full-year performance of the Clinical Development business indicates 1% – 4% growth for the Total Labcorp Enterprise, including a 75% – 90% YoY decline in COVID-19 Testing revenue. The current 2023 consensus revenue for the company stands at ~$15.0B, implying ~1% YoY growth.
Read: Citing its recent acquisition of select laboratory assets from Ascension hospitals, Seeking Alpha contributor Gen Alpha argues that Labcorp (LH) has capitalized on its COVID-19 windfall.