Barclays sees upside in rail stocks despite downbeat investor sentiment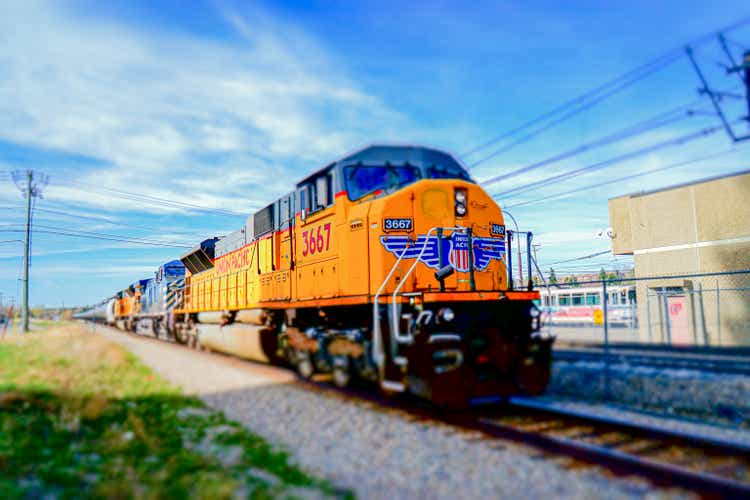 Overwrought investor pessimism on railroad operators has made many stocks in the actor attractive buying opportunities, according to Barclays.
Equity analyst Brandon R. Oglenski told clients that persistent margin headwinds in recent quarters, labor and demand concerns, as well as the recent derailment of a Norfolk Southern (NYSE:NSC) train in east Ohio have hit sentiment hard. He noted that "a negative bias" toward rail companies was palpable at a recent industry conference as well. In terms of sentiment, Oglenski advised that sentiment may be hitting its nadir.
"We expect de-stocking across retail supply chains is well underway, leading to expectations from several corporates at our conference to expect more normal seasonal shipping patterns starting later this year," he commented. "And with leadership change underway at Union Pacific (NYSE:UNP), we see incremental value across most of the sector with equities trading below historical relative levels, especially for the US carriers."
Additionally, he said that improving fundamentals for the industry against easier comparisons as 2023 progresses as minimizing downside risk for operators. This is particularly for operators that have underperformed thus far in 2023, including Canadian Pacific Railway (CP) and CSX Corp. (CSX).
"While the current volume outlook calls for marginal industry growth in 2023, we see comparisons becoming easier in the third and fourth quarter. Further, rail industry cost indexes, many of which are referenced directly as base rate inflators in long-term contracts, are up materially in 2023 reflecting last year's higher labor contract," Oglenski advised. "Given the likely outcome of improving demand and sequential gains in core pricing, we see lower downside risk to railroad estimates compared to prior periods."
Oglenski reiterated overweight ratings on CSX Corporation (CSX), Canadian Pacific Railway (CP), and Union Pacific Corp. (UNP). Norfolk Southern and Canadian National Railway (CNI) were rated Equal Weight.
Read more on Union Pacific's search for a new CEO.