Macy's stock moves over 10% higher on earnings beat, strong profit guide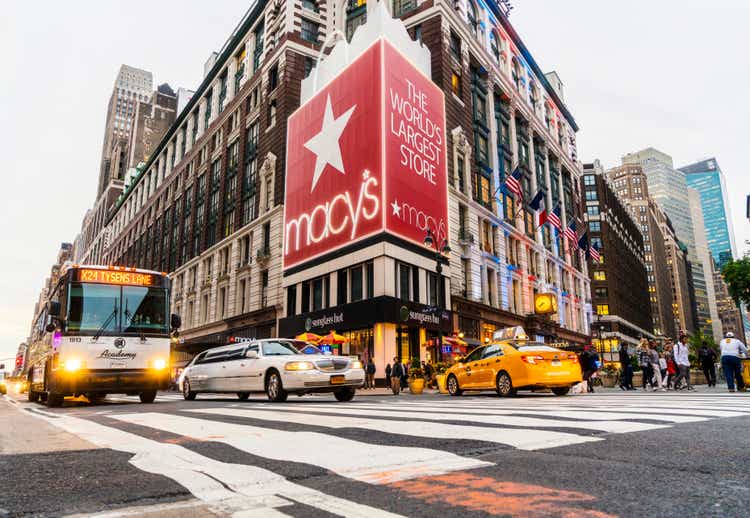 Macy's (NYSE:M) shares rose sharply on Thursday after posting stronger than expected Q4 earnings and 2023EPS guide.
For the fourth quarter, $1.88 in earnings per share came in $0.29 above analyst estimates. Meanwhile, a 4.3% decline in revenue to $8.3B year over year was not as steep a decline as anticipated. Additionally, Owned plus licensed comparable sales declined 2.7% from Q4 2021, better than the consensus estimate of a 3.45% drop.
A gross margin report of 34.1% met the consensus expectation while a 3% decline in revenue from the prior year to $4.27B marked a reduction $200M greater than the Street consensus expectation.
"Despite an increasingly volatile macroeconomic climate, through the ongoing execution of our Polaris strategy, we remained agile, pivoted to meet customer demand and elevated our approach to inventory management," CEO Jeff Gennette commented. "In the fourth quarter, we benefited from our disciplined inventory approach and compelling gift-giving strategy, which allowed us to provide fresh fashion and style at great values for all our customers. We were competitive but measured in our promotions, took strategic markdowns and intentionally did not chase unprofitable sales."
Moving forward, a strong profit guide for 2023 overshadowed somewhat light sales guidance. Management expects net sales of $23.7B to $24.2B, short of the $24.43B consensus. Adjusted diluted earnings per share are expected to range from $3.67 to $4.11, projecting a midpoint of $3.89, against a $3.84 consensus.
"Looking ahead, we will continue to take a balanced approach to expense management and capital allocation," CFO Adrian Mitchell commented. "With an ongoing focus on maintaining our financial health and strong balance sheet, we will make disciplined investments to drive growth while returning capital to shareholders."
Shares of the New York-based retailer ripped 11.86% higher in premarket trading on Thursday.
Dig into the details of the print.