Bitcoin, ethereum unbothered by Silvergate drama, but crypto-related stocks take hit
Mar. 02, 2023 3:50 PM ET
Bitcoin USD (BTC-USD), ETH-USD, SICP, MARA, BKKT, MSTR, COIN, BRPHF, GLXY:CA
By:

Max Gottlich,

SA News Editor
42 Comments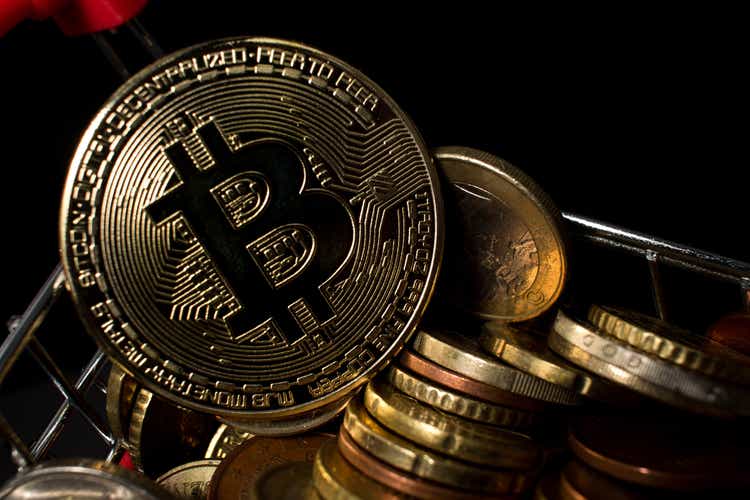 Bitcoin (BTC-USD) and ethereum (ETH-USD), the two largest cryptocurrencies by market cap, eked out small gains in Thursday mid-afternoon trading even as the Silvergate Capital (NYSE:SI) exodus takes it toll across crypto-exposed stocks.
Helped by a risk-on day across the stock market, bitcoin (BTC-USD) and ethereum (ETH-USD) both inched higher by 0.6% to $23.54K and $1.65K, respectively, as of 3:50 p.m. ET.
In the span of less than one day, Coinbase Global (NASDAQ:COIN), Galaxy Digital (OTCPK:BRPHF) Paxos Trust Company and Bitstamp all have ended their relationship with Silvergate Capital (SI), after the troubled crypto-friendly bank late Wednesday delayed filing its annual report and revealed doubts about its viability.
The latest blow to the crypto space "does not seem to have a huge impact on crypto prices," said Julius de Kempenaer, senior technical analyst at retail investor-focused financial charting platform StockCharts.com.
The major alt coins (anything but BTC) saw intraday declines of as much as 4%, "but that also does not count as panic selling in my book," he told Seeking Alpha in an emailed statement.
Overall, he concluded, "the crisis at Silvergate (SI) is nasty, another victim that could not handle the crypto boom. But the impact on the market seems limited for now. At the moment, regular financial institutions seem untouched by this new crypto failure and at this stage it seems unlikely that they would get hurt."
Most crypto-exposed stocks, though, traded in the red, chiefly Silvergate (SI) -57.1%, Coinbase (COIN) -1.4%, MicroStrategy (NASDAQ:MSTR) -1.7%, Bakkt (NYSE:BKKT) -2.8% and Marathon Digital (NASDAQ:MARA) -3.8%.
Earlier, crypto-focused ETFs slide amid Silvergate crash.