Snap rises for third straight day with anti-TikTok bill set for launch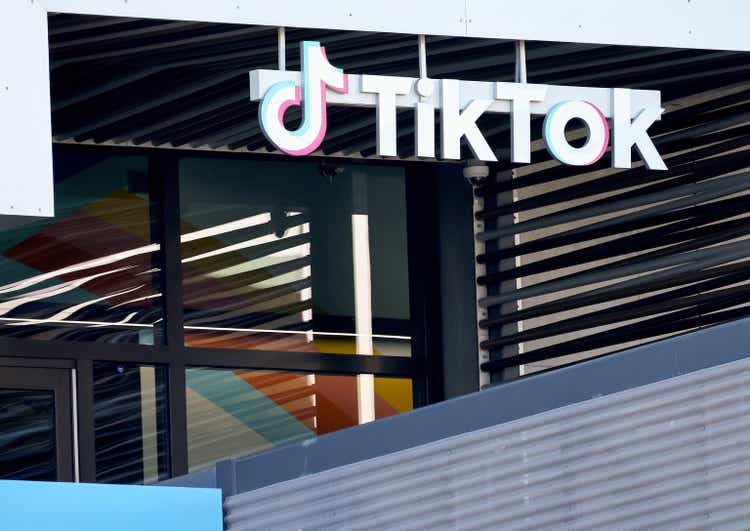 Snap (NYSE:SNAP) is 5% higher Tuesday, pacing toward its third straight day of solid gains driven by growing anti-TikTok (BDNCE) sentiment in the U.S. government.
Snap gained 5.5% Friday and rose another 9.5% Monday as increasing details spilled out about coming action to combat what is seen as a Chinese technological threat.
Now Democratic Sen. Mark Warner (chairman of the Senate Intelligence Committee) and Republican Sen. John Thune are planning a 3 p.m. ET news conference at which they're expected to unveil a proposed bill to empower President Biden to act more swiftly against threats posed by foreign technology names.
Warner said Tuesday the bill will enable the Commerce secretary to take action against tech names based in six nations: China, Russia, Iran, North Korea, Venezuela and Cuba.
"In terms of foreign technology coming into America, we've got to have a systemic approach to make sure that we can ban or prohibit it when necessary," Warner said Sunday. Does that mean TikTok?
"That means TikTok is one of the potentials. Listen, you have 100M Americans on TikTok, 90 minutes a day," Warner said. "They are taking data from Americans, not keeping it safe, but what worries me more with TikTok is that this can be a propaganda tool ... The kind of videos you see would promote ideological issues. If you look at what TikTok shows to the Chinese kids, which is all about science and engineering, versus what our kids see, there's a radical difference."
The bill's not solely aimed at TikTok, though, Warner said, but rather an approach that prevents the need to address issues one at a time.
It would match a similar bill voted out from the House Foreign Affairs Committee last week.
Other Internet content companies also moved sharply higher out of Tuesday's market open, but have pared gains a bit in the wake of Fed Chairman Jerome Powell's Tuesday Senate testimony: Pinterest (PINS) +1.5%, and Meta Platforms (META) +0.5%, also in the wake of news about its own further job-cutting actions.