Senators unveil bill to rein in TikTok, 'adversarial' tech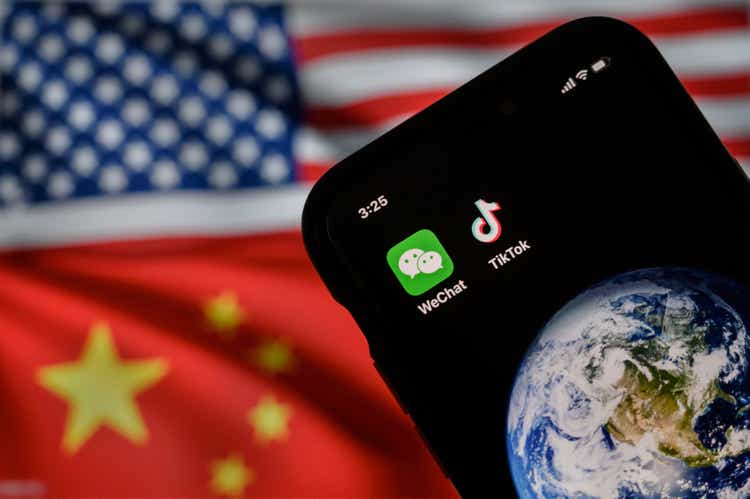 Senate Intelligence Committee Chairman Mark Warner introduced bipartisan legislation Tuesday afternoon aimed at policing the threat of technology from "adversarial" nations, a move lately pointed at a potential ban of Chinese-based hit social-media app TikTok (BDNCE).
The "RESTRICT Act" will give the president (via the Commerce secretary) "new authorities to mitigate the threat posed by technology products from adversarial nations," Warner (a Democrat) said alongside his key co-sponsor, Republican Sen. John Thune. The two cited support from 12 senators from both major parties on the bill.
Key U.S. rivals to TikTok started the day sharply higher but have pared gains alongside the broader market downdraft: Snap (NYSE:SNAP) is still +1%, though Pinterest (PINS) has turned to fractional gains, and Meta Platforms (META) is holding on to a 0.2% gain.
The senators are pursuing a systemic approach rather than solving problems one by one, Warner said. Before TikTok, "there was Huawei and ZTE ... before that there was Kaspersky Labs," Warner said.
Tools to mitigate the threats have so far been limited, Warner said, citing the example of the FCC banning China Mobile and China Telecom, but being unable to stop those companies' cloud computing/business data services in the U.S. because of jurisdiction issues.
"So instead of playing whack-a-mole on Huawei one day, ZTE the next, Kaspersky, TikTok, we need a more comprehensive approach to evaluating and mitigating these threats posed by these foreign technologies from these adversarial nations," Warner said.
The bill if passed will allow the secretary of Commerce to take actions "up to and including a ban" on tech names based in six nations: China, Russia, Iran, North Korea, Venezuela and Cuba.
But as for TikTok (BDNCE) in particular, "I'm particularly concerned about TikTok's connections to the Chinese Communist Party, which repeatedly, repeatedly spies on American citizens," John Thune said.
"It's safe to assume that if the CCP is willing to lie about its spy balloon and cover up the origins of the worst pandemic in 100 years, they'll lie about using TikTok to spy on American citizens," Thune said.