First Republic Bank plunges amid report it's evaluating possible sale (update)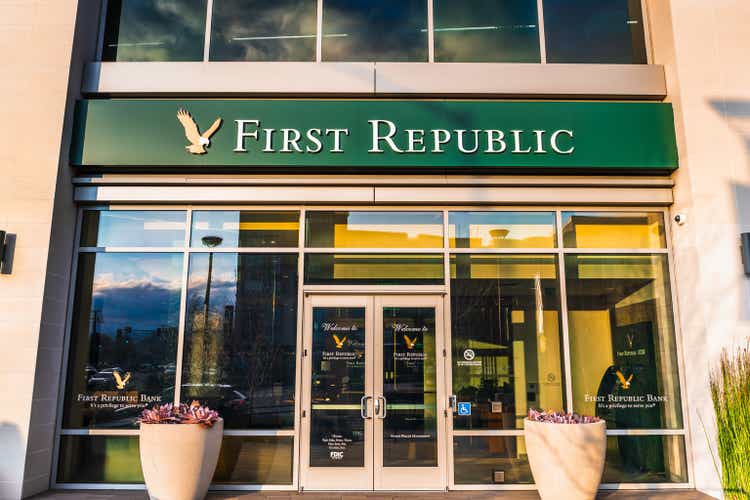 Update 9:20am: Updates shares, adds analyst comment.
First Republic Bank (NYSE:FRC) sunk 35% in premarket trading amid a report that it's evaluating strategic options, including a potential sale.
The bank, whose shares had plunged 80% in the past week in the wake of the failure of Silicon Valley Bank, is also weighing options to improve its liquidity, according to a Bloomberg report, which cited people familiar. The San Francisco-based lender is likely to garner takeover interest from larger rivals.
The potential sale comes after S&P cut the lender's rating to junk on outflow risk on Wednesday. Fitch Ratings also downgraded First Republic (FRC) and put the bank on negative rating watch.
"Normally, a headline of a potential sale would support the stock," KBW analyst Christopher McGratty wrote in a note. "However, the potentially significant deposit outflows post-SIVB failure likely leave FRC in a tough spot, especially given heightened market volatility and mark-to-market accounting headwinds from its low yielding loan portfolio (interest rate mark).
"Any potential sale would likely be a tough outcome for existing shareholders, given mark-to-market accounting on loans," McGratty added.
On Sunday First Republic (FRC) announced it gained access to additional liquidity from the Federal Reserve Bank and JPMorgan Chase bringing its total available, unused liquidity to fund operation to more than $70B.
"Though stopping short of identifying potential buyers of FRC, given the size of the company we believe the G-SIFI banks would be in the best position from a capital perspective..." McGratty wrote in the note.
More on the bank crisis